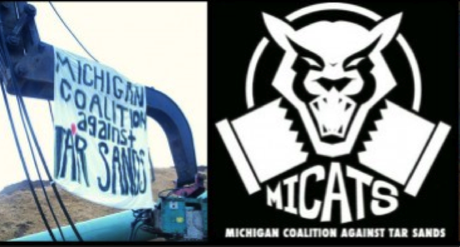 from MICATS
Dear Movement,
We think it's time for us to have a conversation: a conversation that can help us address the work we need to do in order to build the true grassroots power than can dismantle the oppressive system that tar sands companies and people in power have worked so hard to profit from. For the past four years we've heard "leaders" like Bill McKibben call on us to take action to stop the Keystone XL pipeline, and we've responded, dutifully traveling to DC to march and protest as a group. We've also watched as decision makers have continuously stalled and appeased this movement by refusing to approve the full pipeline, while still consenting to the production, transportation, and refinement of this toxic substance in more and more places across the continent. It is time for us to do more than submit public comments to a system incentivized to ignore us, or chain ourselves to symbols that will look good for the media. The Michigan Coalition Against Tar Sands is writing this open letter to call for a dialog and action around developing an anti-tar sands movement that focuses on the root causes of this issue and unites communities and groups in a common goal to stop tar sands in its entirety.
It has been incredibly powerful and inspiring to hear so many different voices from those fighting the tar sands system this weekend at Power Shift, but we need to be able to hear each other more – more loudly and more often. We cannot ask our brave leaders whose homes and families are being threatened by poison and destruction to appear in our program, speak to us at this conference, and form a public face for our work if we are not going to embrace their fights wholeheartedly into our movement. We cannot truly believe that we are going to make a difference if we do not acknowledge the true scope of this problem, the need to engage in work that is driven and led by the community and our potential to be our most powerful by working together in a just and compassionate manner.
The constant focus of the tar sands narrative around the President as the ultimate decision maker is both disempowering to communities bearing the burden of existing infrastructure, and disrespectful to those who have been disenfranchised and marginalized by the industrial-capitalist paradigm perpetuated by all leaders within the current system.  This sort of rhetoric feeds a privileged narrative at the exclusion of frontline communities that are seen as merely an excess of "human capital" by the system of which the President is the figurehead.
We are from the occupied territory called "Michigan," where tar sands oil is still poisoning ecosystems, water, and humans three years after the largest inland oil spill in our history. In addition to this ongoing destruction, our elected officials are allowing Enbridge to expand this same pipeline to more than double its capacity, all while opposition to the kxl has gotten stronger. While kxl is a large part of the problem, it is time for the mainstream movement's figureheads to stop exclusively referring to this pipeline and discouraging us from working on other tar sands issues. With urgency and strength, we implore all tar sands activists and organizations to reframe this movement to something that is more than a convenient political symbol and into something that can stop the amoral and unlawful devastation of life and our responsibility to it.
In solidarity and frustration,
The Michigan Coalition Against Tar Sands