Hey Girlies...
Thank you so much for your support and love towards my very first OOTD which I posted earlier (read My First Ever OOTD ). 
Here I am with one more awesome Kurta to show you guys from MAX Fashions.
I have the beautiful white Fusion Kurta to style my way and I have come up with this look.
Are you aware of the fact that MAX Fashions launched their new Autumn '14 Collection ?
Let's see what they have to say about this new Collection
(in their own words) 
Capturing the essence of the breezy season of fall,India's leading value fashion chain,Max has launched its latest Autumn '14 collection.Inspired by the concept "
Be new every day"
the collection takes inspiration from the unexplored experiences, while breaking the monotony of life and bringing new changes everyday.The simple joys of new experiences are highlighted through the subtle references of chic yet stylish Boho Autumn Look.Earthy warm accents reinstate the season's charm with Laces,Sublimation prints,Flocked fabrics and monochromatic details.Warm and colorful hues of Inky blues, Rouge and Deep pinks merge with ornate patterns,embellished laces and beaded necklines to render an exotic yet stylish statement.The collection is a rich combination of chic and comfort clothing paired with impeccable accessories and footwear for that perfect Autumn look.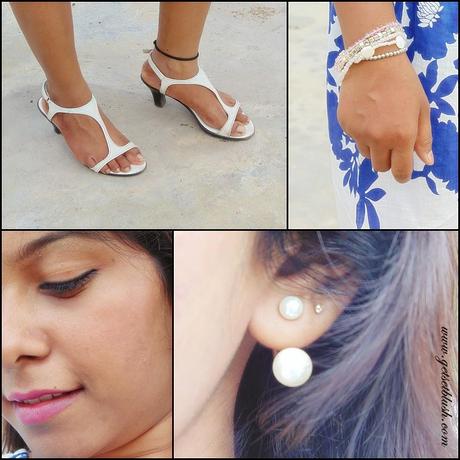 About their Women's Wear:
As a prelude to the festive season the Folklore range witnesses a fusion of culture and tradition through folkloric prints and patterns.Earthy accents in cross stitch embroideries and paisley motifs, create the Boho Autumn look.Printed leggings, border printed tops & placement graphics, merge historical techniques and aesthetics with a modern twist.A key ingredient in the season's fashion delicacy is Monochromes.Luxurious soft, silky hands of polyester crepes & Georgette are worn over printed satin stretch pants for the solid or pattern clash look.
This season floral are all about modernity with the Spiced Floral and Floral Mystery range, with bright color tones and neutrals put together for the right balance. Flocked fabrics and lace overlays add an air of sophistication with vintage-inspired blues, deep pinks, and creams. In trend is the combination of floral with stripes and digital printing techniques, perfect for that added oomph and personality. 
Check their Facebook page for more information: 
https://www.facebook.com/maxfashions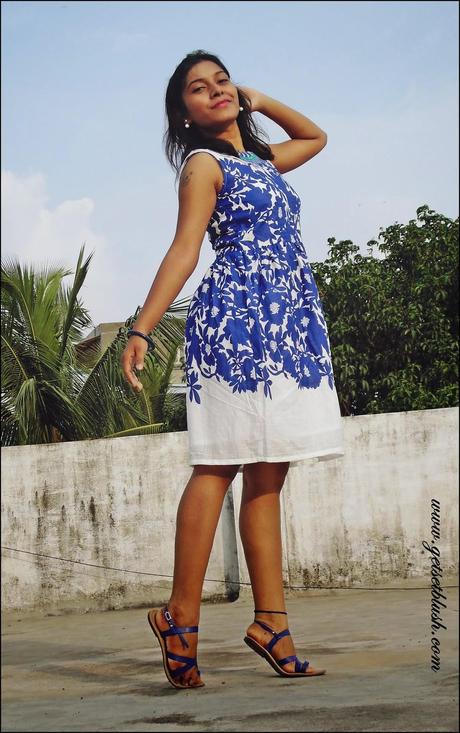 Now that you got to know what I chose, I selected a floral printed fusion kurta. This can be worn with a legging or a 3/4th legging or even with a Jeans or a Jegging( just like this one) 
However I chose to wear it just like that. I have a weak heart for dresses and now I am slowly coming out of my comfort zone :P 
You can expect more OOTD's featuring dresses and some ethnic wear also(you see,I want to be helpful in choosing your outfit for Durga Puja..Diwali and more kidding)
The kurta is made of cotton and is very comfortable to wear. I can literally live in it :P
One thing which dragged my attention is that the dress shape. It is A line fit and is perfect for women who has a bit heavy waist area. It has a lining provided which makes it perfect to wear it even as a dress. Girls can pair up with their choice of bottom as I mentioned earlier.
Overall, I had a great time posing :D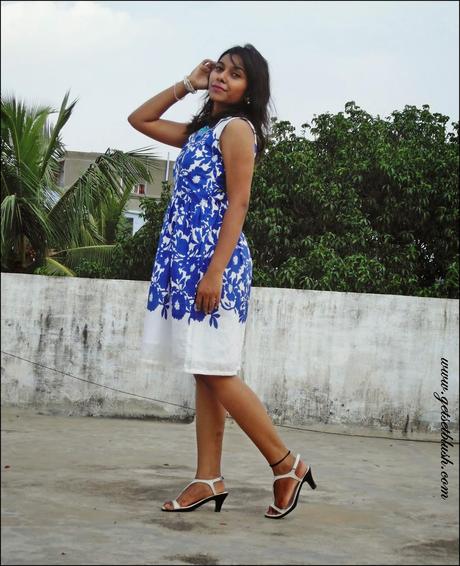 BREAKDOWN:
LOOK 1 - The BOHO CHIC
I have paired the fusion kurta with Blue flats,Blue Wooden Bangle and a hairband to create a boho style chic look..In the second picture.
I kept the accessories very simple as I want to look not so made up.
I wore my double pearl rings which I wore while creating a look inspired by Cannes '14 
LOOK 2: CLASSY GIRL
I wore a pair of white sandals along with some white/cream arm candies. I left my hair open and rest is the same as Look 1
MAKEUP:
Face:
Neutrogena moisturizer as base
Lakme CC Cream
Maybelline Compact
MUA Blush in shade 3
Eyes:
Maybelline Kajal in Turqouise and Black.
Lips:
I have used NYC's jumbo lip crayon in Ballroom Blush.
I hope you liked the look.
ps:
The outfit has been 

was sponsored by MAX Fashions. Please read my 

disclaimer