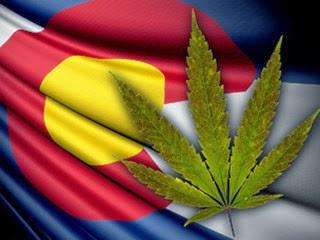 (This image is from examiner.com.)
In the November 2012 election, the people of Colorado (and Washington) voted to legalize the recreational use of marijuana by adults, and in November of 2013 they voted to tax the sale of marijuana. Now we are only days away from both of those laws going into effect -- as the sale and use of marijuana will officially be legal on January 1, 2014.
This week the state government began mailing out the first licenses to sell marijuana. Here is how CNN reports it:


Retail marijuana licenses issued by Colorado -- the first in the nation -- should arrive in the mail by the end of this week, according to the state Department of Revenue's Marijuana Enforcement Division.

The state sent out 348 retail marijuana licenses to prospective retail marijuana establishments on Monday, including 136 marijuana stores, 178 marijuana cultivation facilities, 31 products manufacturing facilities and three marijuana testing facilities.

The state's retail marijuana licensing process includes fingerprint-based background checks and financial checks. The businesses must also receive approval from the local authorities before they may operate.

Thomas Behler, assistant manager at Ganja Gourmet, a medical marijuana dispensary in Denver, said he is happy about the licenses.

"Business should increase exponentially; every 21-year-old on the planet is going to come here," he said. "We already have a successful business, but we are not in it for the money. We are helping people and providing them with a service."

Mason Tvert, director of communications for the Marijuana Policy Project, also praised the development, which he said will affect efforts in other states.

"Colorado will be leaving prohibition behind in the new year," he said. "The movement taking place in Colorado has piqued the interest of voters and elected officials around the country, many of whom will be taking the issue on in 2014."

Colorado now joins Washington as the only two states where the legal recreational use of marijuana is allowed. The law in Washington took effect in December of 2012, and by June of 2014, that state is expected to have 334 legal marijuana retail outlets.
The question now is who will be next. There's a real chance that the next state to legalize marijuana will be Alaska. Proponents of changing the law in Alaska to legalize marijuana have gotten over 44,000 signatures to get that measure on the ballot for a vote in August of 2014 (and they only needed to get slightly more than 31,000 signatures). Proponents in California are also collecting signatures to get a measure to legalize marijuana on the November 2014 ballot.