The movies Holiday Inn (1942) and White Christmas (1954) have much in common. Both movies are Christmas classics, Bing Crosby stars in both movies, both movies are musicals, and both movies feature songs by Irving Berlin, most notably the song "White Christmas." But according to IMDB, the movies have even more in common than that. According to IMDB, the set for General Waverly's inn in White Christmas used a remodeled version of the set used for the inn in Holiday Inn. So I took a close look at both movies to see how the sets compared.
When I set out to write this post, I was hoping to have a longer list of similarities to point out, but upon close inspection, it became clear the Holiday Inn set was indeed remodeled for White Christmas, and quite extensively at that. The two inns have very different layouts and several elements such as the indoor fire pit where Betty and Phil can be seen roasting hot dogs and the dining/floor show area in White Christmas weren't part of the original Holiday Inn set.
One thing both inns have in common is they both have entrances right by the main stairway. However, the two entry areas are so different I'm not sure how much, if any, of it was part of the original Holiday Inn set. The only thing the two entrances have in common is they both have similar windows. The floors are different, the staircases are very different, and the front desk area was added for White Christmas.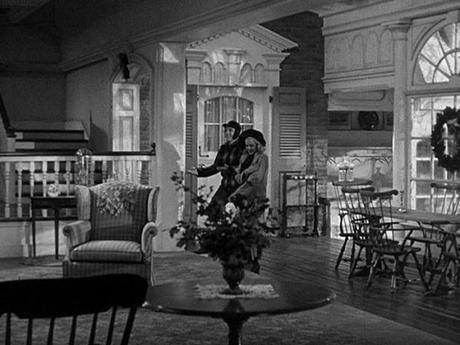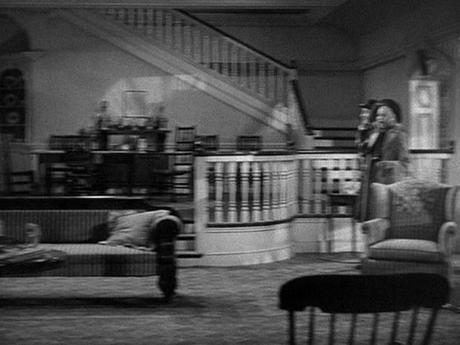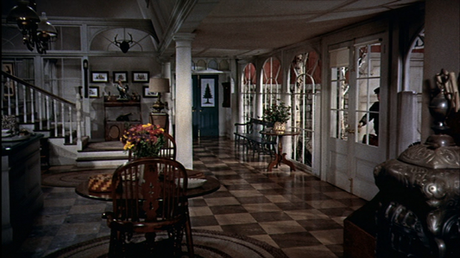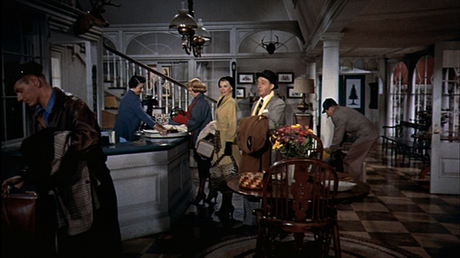 The fact that the two inns have similarly shaped windows is one of the biggest similarities between the two sets. However, even those aren't exactly the same between the two movies.
Despite there being so many differences between the two sets, there is one area that is unmistakably part of the original Holiday Inn set. These three distinctive windows, which were originally seen in the area by the piano where Bing Crosby first sang "White Christmas" in Holiday Inn, are also briefly seen in White Christmas when the cast members are having their party and Betty and Phil announce their engagement. The rest of the area had been pretty drastically changed for White Christmas. As you can see, the door was removed, as was the fireplace, and an entryway to another room was created. Those windows, however, look almost exactly as the same in White Christmas as they did in Holiday Inn. The only difference I can see is there was some moulding around them in Holiday Inn which was removed for White Christmas.