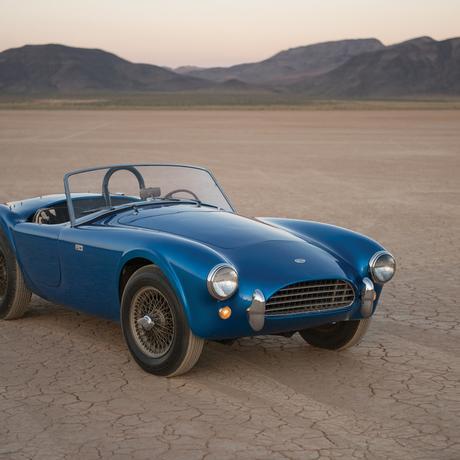 THE SPECIAL CAR RELATIONSHIP - By Adrian Hearn
The most important American car of the past 50 years which couldn't have been built without the help of the British is set to sell for £10 MILLION this summer.
Le Mans racing legend Carroll Shelby built his first sports car in 1962 in a small garage in Santa Fe, California.
He used a powerful V8 Ford engine and four-speed gearbox for the car, with British car maker AC air-freighting the body and chassis from its Ace across the Atlantic.
The result was a groundbreaking sports car which could do 0-60mph in just 4.2 seconds and accelerate all the way to 153mph.
Shelby named the car 'Cobra' after a dream.
To give the press the impression was in full swing, Shelby repainted the Cobra a different colour for every event is was shown off at.
But there was only one Cobra, known as CSX 2000, and it was kept from new by Shelby who owned the car until his death at the age of 89 in 2012.
The Cobra, in its various forms, went onto be an incredibly successful car on the road and track. In 1964, racing driver Jack Sears drove an AC Cobra at 186mph on the M1 Motorway ahead of the Le Mans race that year.
Shelby's personal Cobra will be sold for the first time in its history at RM Sotheby's Monterey sale in California in August.
The iconic car, which is part of the Carroll Hall Shelby Trust, is regarded by many as the most important modern American car.
RM Sotheby's is not revealing the Cobra's estimate, but it is expected to sell for in excess of £10 million.
Shelby Myers, car specialist at RM Sotheby's, yesterday (Fri) described CSX 2000 as a sports car "without peers".
He said: "Its historical significance and impact on the global sports car scene cannot be overstated
"In the automotive world, CSX 2000 was the shot heard 'round the world; it revolutionised not only American racing, but the greater auto industry as a whole.
"Had Carroll Shelby never decided to squeeze that high performance V-8 into it's engine bay, there would be no Cobra and certainly no Shelby American, nor GT40, nor the others that followed. The automotive landscape and sports cars as we know them would be very different."
Despite being almost 55-years-old, the car still has its original body, engine and interior and tatty leather seats.
Over the years it has been featured in countless books and magazines, continually driven and critiqued in road tests.
To commemorate the car's 50th anniversary in 2012, it took centre stage at some of the country's most prominent events including the Pebble Beach Concours d'Elegance.
Since then, it has been on display at the Shelby Heritage Center in Las Vegas, Nevada.
Joe Conway, co-trustee with Neil Cummings of the Carroll Hall Shelby Trust, said: "Carroll and (RM boss) Rob Myers discussed Cobra #1 many times, and they were good friends.
"Their agreement that Rob would offer the car for Carroll's Trust, after he was gone, was a very emotional one for both of them."
Shelby Myers added: "We feel both incredibly honored and privileged to have been entrusted with CSX 2000's sale by the Carroll Hall Shelby Trust.
"It is, without exception, the single most important and history-rewriting sports car ever offered at auction, after over 50 years of ownership and without ever leaving the care of its founding father.
"Supremely original and with extraordinary history, we're beyond thrilled to celebrate and present this national treasure in Monterey this August."
VIDEO FOR EMBED - https://www.youtube.com/watch?v=K2RDT8u4FXY
ENDS