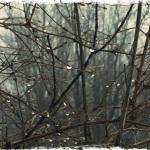 One  Minute Meditations
 is an ongoing series of short videos, poems, and commentary intended as a meditation.  Offered as an opportunity to step back from your cyber routine and settle into a more natural rhythm, if only for a minute. 
This week's One Minute Meditation is the first time lapse film I've ever done.  I can't say I wasn't pleased. The cloud formations marching gently across the sky give you a sense of the pace that nature can take.
Time Lapse
Where does the time go?
But then, where does it come from?
Nowhere when you're there.

The song "
Cylinder One
" by Chris Zabriskie  is used 
 under Attribution License
Get Each Week's One Minute Meditation in your email box
First Name:
Last Name:
Email address:
Weekly Series:
One Minute Meditations
Tiny Drops (Photography series)
Compass Songs (My Favorite Poems)
Dialectic Two-Step
Modern Koans (interesting questions)
Sunday Morning Coming Down (Music Videos)
Relics (Timeless Republished Articles)
Say What?
Quotes

The post One Minute Meditation – Time Lapse appeared on Andrew Furst.