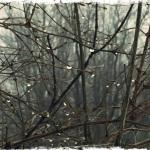 One  Minute Meditations
 is an ongoing series of short videos, poems, and commentary intended as a meditation.  Offered as an opportunity to step back from your cyber routine and settle into a more natural rhythm, if only for a minute. 
The Patience of Time
Where do you reach for patience?  When you're in a pressure cooker situation, how do you access calm and perspective? Knowledge is important.  Knowing that you can apply the brakes in situations is helpful. But, just like driving, you need practice.  This week's video – The Patience of Time – offers a little of both.
In this time lapse meditation, you see the steadiness and patience of the clock against the backdrop of the busy movement of people.  I shot this in lobby 7 of MIT's Roger's building during a busy weekend event.  The visual of the slowly moving clock, reminds me of that we have a choice of what to do in the span of an hour.  These kids were having fun and they show it with their excited pace.  But this video would look a lot different if there was a meditation event happening in the same spot.  You might mistake the movement  of the clock as the frenetic happening.
Knowing you can choose your pace is important.  Practicing setting it is perhaps more important.  Try it now. watch the video, listen to Chris Zabriskie's soothing music, and discover the benefits of life in the slow lane.

There's Probably No Time by 
Chris Zabriskie
is licensed under a
Creative Commons Attribution License
. Permissions beyond the scope of this license may be available at http://chriszabriskie.comGet Each Week's One Minute Meditation in your email box
First Name:
Last Name:
Email address:
In addition to a monthly email you can also subscribe to the following weekly series:
One Minute Meditations
Tiny Drops (Photography series)
Compass Songs (My Favorite Poems)
Dialectic Two-Step
Modern Koans (interesting questions)
Sunday Morning Coming Down (Music Videos)
Relics (Timeless Republished Articles)
Say What?
Quotes
Verse Us (Poems I Write)

If You Watched The One Minute Meditation,
How Do You Feel? Note: There is a poll embedded within this post, please visit the site to participate in this post's poll. 
The post One Minute Meditation – The Patience of Time appeared on Andrew Furst.