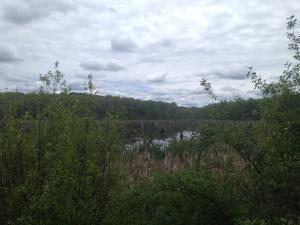 This weeks one minute meditation was filmed at a great blue heronry a few towns north of where I live.  My son and I trekked over on Memorial Day weekend after the rain stopped on Saturday morning. It was my first visit.  He had been several times and showed signs of boredom when my wife suggested he show me the way.
While the video doesn't give you the view of the of the nestlings that our 60X telescope offered, you can make out the shapes of the parents and nests at the tops of the dead trees in the center of the marsh. The nestlings were awkward and homely.  Barely a trace of the beauty and grace their parents exuded.  But seeing them rustle around in their perches brought smiles of joy to both our faces.  The trip was worth it.
The Other?
When I first arrived I marvelled at how the adult herons could sit so patiently. Something that is always a challenge for me and my busybody nature. The solitary towers seemed to safeguard the young from unmotivated humans and ground bound predators.
But then I recalled our arrival.   The field where I parked the car was being circled by at least one red-tailed hawk. Perhaps it was diligence, not leisure, that was occupying the big birds.
In a matter of moments I had projected the contradictory states of peacefulness and fear upon these great blue herons.  How far I must be from the truth?
But then again, what is the problem to solve?
The ability to observe without evaluating is the highest form of intelligence. – Jiddu Krishnamurti
Meditation – Day 3085
I wonder, the birds,
are they as joyful, flying,
as I imagine?
- Troy Freund
Read more from Troy Freund at his Day-to-Day Haiku Project at http://troyfreund.wordpress.com/
You can also view his photos here

Follow me
Andrew
Author of the new book Western Lights,Meditation Teacher, Buddhist blogger, yogi, backup guitarist for his teenage boys, lucky husband and technologist

Follow me
Latest posts by Andrew
(see all)
The Gun Debate. Who is Telling You What to Think?

- May 31, 2014

One Minute Meditation – The Heronry

- May 29, 2014

What Got Done Today? Kindle Version of Western Lights

- May 27, 2014
Powered by Starbox