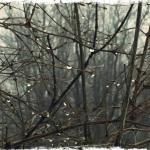 One  Minute Meditations
 is an ongoing series of short videos, poems, and commentary intended as a meditation.  Offered as an opportunity to step back from your cyber routine and settle into a more natural rhythm, if only for a minute. 
The weekend snow storm we had mid-January was a nice change of pace.  Everything was cancelled (including 5:00 AM swim practice).  It ended up being a busy productive day, but in ways  that were happily unexpected. We cleaned out one of the basement rooms, shoveled, built snowmen, and I put together today's  one minute meditation. Enjoy.
Snow Day
Everything cancelled
Housework and snowman building
Shoveling is done
Get Each Week's One Minute Meditation in your email box
First Name:
Last Name:
Email address:
Select a Weekly Series You'd Like to Follow:
One Minute Meditations
Tiny Drops (Photography series)
Compass Songs (My Favorite Poems)
Dialectic Two-Step
Modern Koans (interesting questions)
Sunday Morning Coming Down (Music Videos)
Relics (Timeless Republished Articles)

If You Watched The One Minute Meditation,
How Do You Feel? Note: There is a poll embedded within this post, please visit the site to participate in this post's poll. 
The post One Minute Meditation – Snow Day appeared on Andrew Furst.