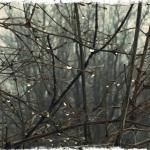 One  Minute Meditations
 is an ongoing series of short videos, poems, and commentary intended as a meditation.  Offered as an opportunity to step back from your cyber routine and settle into a more natural rhythm, if only for a minute. 
Night Time On Memorial Drive
This week's one minute meditation, Night Time On Memorial Drive, was shot by my son as we drove home via Memorial Drive on a November evening.  It involves the use of some visual effects. Which is unusual for me, but I liked the effect.
Settle into your body. Relax, breath, and enjoy the one minute respite from the hectic pace of the day.
Night  Lights
Night lights are people
behind dark glass and stories
Cool winter breezes

 Cylinder Six by Chris Zabriskie is licensed under a Attribution License. Permissions beyond the scope of this license may be available at
http://chriszabriskie.com
Get Each Week's One Minute Meditation in your email box
First Name:
Last Name:
Email address:
Select a Weekly Series You'd Like to Follow:
One Minute Meditations
Tiny Drops (Photography series)
Compass Songs (My Favorite Poems)
Dialectic Two-Step
Modern Koans (interesting questions)
Sunday Morning Coming Down (Music Videos)
Relics (Timeless Republished Articles)

If You Watched The One Minute Meditation,
How Do You Feel? Note: There is a poll embedded within this post, please visit the site to participate in this post's poll. 
The post One Minute Meditation – Night Time On Memorial Drive appeared on Andrew Furst.