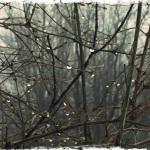 One  Minute Meditations
 is an ongoing series of short videos, poems, and commentary intended as a meditation.  Offered as an opportunity to step back from your cyber routine and settle into a more natural rhythm, if only for a minute. 
A few months back I wrote two pieces on Dragon Brook in Shelburne Falls.  The meditations were on two views of the brook.  The first saw the brook coming towards us. The second flowing away. Each offered a very different feel.
This is a view of the Piscataquis River flowing away. The breadth of the river at this point in East Dover is fairly impressive.  The tug on the psyche is on a different order of magnitude than Dragon Brook.
We always color our perceptions with judgment.  The receiving and loss I described in the Dragon Brook pieces are a perfect example.
My experience with this view is altogether different. The pull that I feel from the river is much more soothing.  When I watch the movement of the water, I feel the subtle purifying power of the current.  The river pulls on my heart like the tidal force of the moon.   I can feel each quantum of tension dissolve into the space created between the river and me.
Meditation on Meditation
What comes with sitting?
Or is it what we give up
Finding our spaces?
Get Each Week's One Minute Meditation in your email box
First Name:
Last Name:
Email address:
In addition to a monthly email you can also subscribe to the following weekly series:
One Minute Meditations
Tiny Drops (Photography series)
Compass Songs (My Favorite Poems)
Dialectic Two-Step
Modern Koans (interesting questions)
Sunday Morning Coming Down (Music Videos)
Relics (Timeless Republished Articles)
Say What?
Quotes
Verse Us (Poems I Write)


Follow me
Andrew Furst
Author of the book Western Lights, Meditation Teacher, Buddhist blogger, Poet, yogi, backup guitarist for his teenage boys, lucky husband and technologist

Follow me
Latest posts by Andrew Furst
(see all)
One Minute Meditation – Looking Over East Dover Bridge

- April 16, 2015

Verse Us – Threads – A Two Dimensional Poem

- April 15, 2015

Tiny Drops – Sonographia

- April 15, 2015
The post One Minute Meditation – Looking Over East Dover Bridge appeared on Andrew Furst.