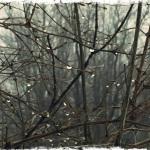 One  Minute Meditations
 is an ongoing series of short videos, poems, and commentary intended as a meditation.  Offered as an opportunity to step back from your cyber routine and settle into a more natural rhythm, if only for a minute. 
Higher Ground
What does it feel like to weather the storm with a sense of calm? How does it feel to sit gently in the midst of a maelstrom? Does it come naturally to you, or is it something that you need to work hard at?  I'm the second type. I have hypertension, and as I grow older the diagnosis reveals itself in very tangible ways.  There are many days when my meditation is mostly about releasing body tension.
When my mind gets caught in a spin, I  feel it later in my shoulders and hands, my hips and my spine. As I've said before, the mind and body are two facets of one thing. Tension can arise from a chaotic mind, and mental exhaustion can take hold because of how we hold and operate our bodies.
In this weeks meditation, there is a juxtaposition of calming music and chaotic and dissonant movement.  The time lapse was taken in Lawrence, MA at the Merrimack River Dam. The shot takes in both the cascading waterfall on the dam and the busy traffic hurrying along on the O'Leary Bridge.
Where does the world want to take you?  On whose terms must you go? As Stevie Wonder reminds us
I'm so glad that I know more than I knew then
Gonna keep on tryin'
Till I reach my highest ground

Lontana, Dolcemente Sospesa by
Fabrizio Paterlini
is licensed under a
Attribution-NonCommercial-ShareAlike 3.0 International License
.Get Each Week's One Minute Meditation in your email box
First Name:
Last Name:
Email address:
In addition to a monthly email you can also subscribe to the following weekly series:
One Minute Meditations
Tiny Drops (Photography series)
Compass Songs (My Favorite Poems)
Dialectic Two-Step
Modern Koans (interesting questions)
Sunday Morning Coming Down (Music Videos)
Relics (Timeless Republished Articles)
Say What?
Quotes
Verse Us (Poems I Write)

If You Watched The One Minute Meditation,
How Do You Feel? Note: There is a poll embedded within this post, please visit the site to participate in this post's poll. 
The post One Minute Meditation – Higher Ground appeared on Andrew Furst.