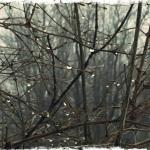 One  Minute Meditations
 is an ongoing series of short videos, poems, and commentary intended as a meditation.  Offered as an opportunity to step back from your cyber routine and settle into a more natural rhythm, if only for a minute. 
Falls Brook
This week's video is from the first trek I've taken this spring.  It was Easter day and my dog Waffles and I trekked through no small amount of snow to see Royalston Falls. The hike was well worth it, the falls are magnificent. However, that will come later.  This video is of a small gorge in Falls Brook leading to the greater falls.
Melting Snow
The source of oceans
drip from these snowbound mountains
leaving me with peace
Get Each Week's One Minute Meditation in your email box
First Name:
Last Name:
Email address:
In addition to a monthly email you can also subscribe to the following weekly series:
One Minute Meditations
Tiny Drops (Photography series)
Compass Songs (My Favorite Poems)
Dialectic Two-Step
Modern Koans (interesting questions)
Sunday Morning Coming Down (Music Videos)
Relics (Timeless Republished Articles)
Say What?
Quotes
Verse Us (Poems I Write)

The post One Minute Meditation – Falls Brook appeared on Andrew Furst.