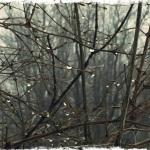 One  Minute Meditations
 is an ongoing series of short videos, poems, and commentary intended as a meditation.  Offered as an opportunity to step back from your cyber routine and settle into a more natural rhythm, if only for a minute. 
Cambridge Snow
This week's one minute meditation, Cambridge Snow, was filmed while I was at work at Foundation Medicine in Cambridge Massachusetts.  It was a beautiful February snowy day, enough to draw my attention from an otherwise frenetic day.
The falling of snow is grounding, a visual cue to settle.  It's a soft settling that occurs at a gentler pace than the typical daily beat.  Pausing for the few minutes to set up my tripod and film the 60 second shot was another opportunity to breath in the midst of the go, go, go.  Treasures never cease to appear.
February Breath
Cold air refreshes
the stagnant shallow heartbeat
as snow settles mind

The song "
Porthglaze Cove
" by
Gillicuddy
 is used under the creative commons "Attribution-NonCommercial 3.0 International License.Get Each Week's One Minute Meditation in your email box
First Name:
Last Name:
Email address:
Select a Weekly Series You'd Like to Follow:
One Minute Meditations
Tiny Drops (Photography series)
Compass Songs (My Favorite Poems)
Dialectic Two-Step
Modern Koans (interesting questions)
Sunday Morning Coming Down (Music Videos)
Relics (Timeless Republished Articles)

If You Watched The One Minute Meditation,
How Do You Feel? Note: There is a poll embedded within this post, please visit the site to participate in this post's poll. 
The post One Minute Meditation – Cambridge Snow appeared on Andrew Furst.