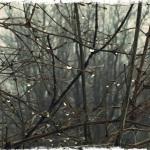 One  Minute Meditations
 is an ongoing series of short videos, poems, and commentary intended as a meditation.  Offered as an opportunity to step back from your cyber routine and settle into a more natural rhythm, if only for a minute. 
Butterfly Days
Summer seems to fly in on the wings of butterflies.  The final deed of breaking through our winter cocoons happens, when are hearts flutter with the passing of these insects.  The rebirth promised in spring is well underway when the butterfly spreads it's matching wings in the sun.  Don't forget to smile during these butterfly days.
These videos are produced for those of us who spend an inordinately large amount of time in the cyber-world.  They are not a substitute for unplugging from your devices and taking a stroll near trees, water, or a patch of unkempt grass.  Getting out into the world - touching, smelling, hearing, and seeing nature is the best way to reconnect with our prime purpose.  
What is our prime purpose? We are feeling and sensing machines.  We are the universe looking back on itself. We are witness to the wonders and dangers of living in this corner of the cosmos.  We are the seekers looking for connection a little further beyond yesterday's borders and boundaries.
But sitting and staring at the screen robs us of the sustenance that we rely upon for wonder and sanity.  These videos are an opportunity to bring the sensations of nature to you, while you're in the cyber-world. Its an opportunity to relax your gaze, resettle your posture,  and regain some depth in your breath.  Listen and watch the video and allow your self to open up and recharge.
Most of these are best viewed in full screen
Get Each Week's One Minute Meditation in your email box
First Name:
Last Name:
Email address:
In addition to a monthly email you can also subscribe to the following weekly series:
One Minute Meditations
Tiny Drops (Photography series)
Compass Songs (My Favorite Poems)
Dialectic Two-Step
Modern Koans (interesting questions)
Sunday Morning Coming Down (Music Videos)
Relics (Timeless Republished Articles)
Say What?
Quotes
Verse Us (Poems I Write)

If You Watched The One Minute Meditation,
How Do You Feel? Note: There is a poll embedded within this post, please visit the site to participate in this post's poll. 
The post One Minute Meditation – Butterfly Days appeared on Andrew Furst.