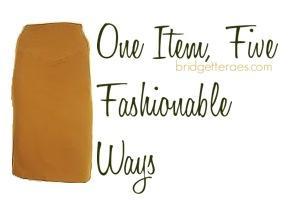 When a frequent reader and commenter on my blog told me she purchased this pencil skirt in toasted mustard from QVC with worry that she might have a heck of a time figuring out what to wear with it, I thought I'd lend her a hand by using the piece for this series.  With the intent to show one item styled five different ways in order to help maximize the use of in your closet more effectively, my hope was that she could get a few outfit ideas.  In addition, a camel pencil skirt being so classic and common, my hope is that you can get some inspiration as well.

Before I get into the looks, let's talk about camel for a minute.  Camel is a fantastic and versatile workplace color.  I love camel in fabrics like cashmere and flannel for fall and find that it works beautifully with other neutrals in addition to vibrant jewel tones.  However, camel near the face can make some people look sallow or washed out, which is why it can be such a lovely bottom color.  There are a few things about camel bottoms before you purchase them.  The first is, in the wrong fabrication, camel can show a ton of flaws, which is why beefier fabrics, like flannel, can be more flattering than a thinner wool.  Also, looking for fabrics that have heft, like natural fabrics with spandex or lycra helps to contain the bottom half of the body, an area most women feel uncomfortable.  Lastly, fit.  Fit is crucial in bottoms in lighter colors.  Pencil skirts tend to be universally flattering because it balances the curves of more shapely women and creates curves on women who don't have them naturally.  This is why I think this skirt from QVC is a great choice, not only is it in a pencil shape but the fabrication is a heftier cotton/spandex with tummy control built in.
Now, let's talk about styling this skirt.  Here are some looks to consider.
Camel Pencil Skirt Outfits
Look #1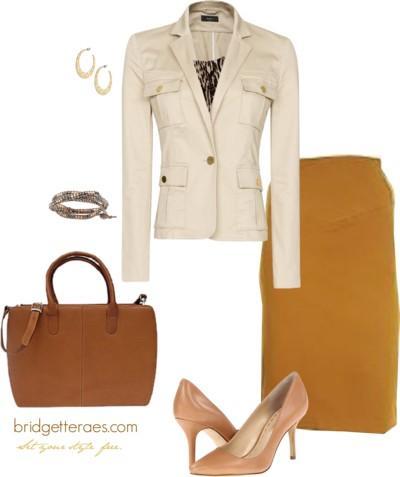 The first thing I thought when I saw this skirt was animal print and loved the idea of mixing an animal print top into the look.  However, wanting to keep it professional, I chose the hint of this animal print top from Lord & Taylor be worn under this Mango safari-inspired blazer.  To keep it professional, I styled the look with a simple pair of Enzo Angiolini nude pumps, a cognac feminine briefcase by Piel and some basic gold earrings and professional bracelet, both by Stella & Dot.
Look #2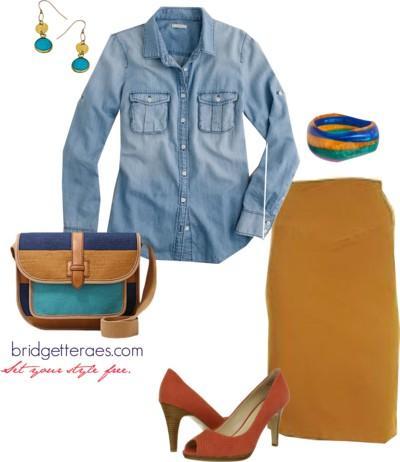 Denim and camel is one of my favorite combinations.  For a casual work look, I paired this skirt with a chambray shirt from J. Crew.  For an unexpected finish, deep coral peep toes by Anne Klein by were used, but a brown pair would certainly work just fine, and I finished the outfit with a bright enamel bracelet by K. Amato, a colorblocked handbag by Fossil and a pair of turquoise earrings by Athena Designs.
Look #3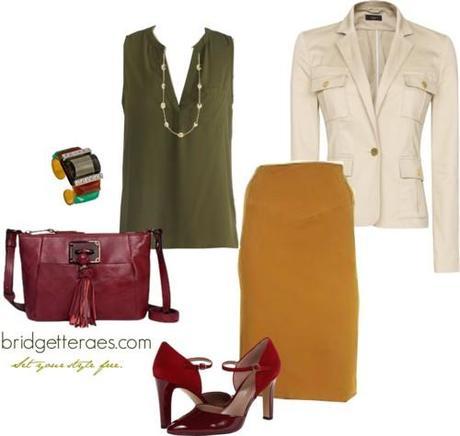 What I also love about camel is how rich it can look, especially when combined with olive.  Olive is another neutral that can be paired with a variety of color, and I love the way this top by Modcloth looks with the skirt.  In this outfit, I particularly like olive and camel paired with burgundy and chose these shoes by Franco Sarto and this handbag by Elliott Luca as the pop.  Lastly, the statement ring by Sandy Hyun brings all the colors together, the Mango blazer that was used in the first look and a simple gold necklace from Kate Spade, makes this outfit look professional and stylish at the same time.
Look #4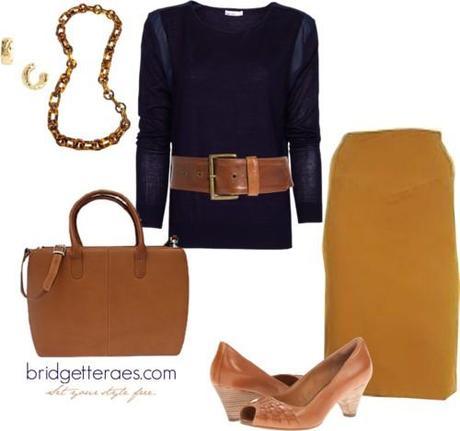 While black and camel is a workable combination, I personally like navy and camel as a color combination even better.  Plus, navy, like in this Mango sweater, is considered a universal color, which means, unlike black, it flatters every skin-tone.  Not every outfit needs to be colorfully combined and I love the way this outfit is finished with the richness of cognac shoes and belt, the briefcase used in the first look, a tortoise necklace and gold earrings.  Simple and rich all at once.
Look #5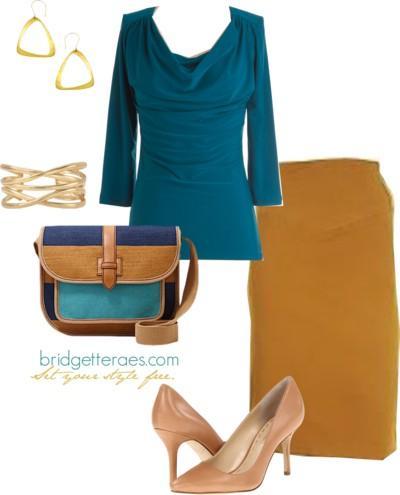 While it may be because my bedroom is camel and teal (I have teal walls and camel bedding) as to why I am always drawn towards this combination, I love it combined.  Teal is a yellow blue which may be why it lends itself so well to such a warm neutral like camel.  In any case, I liked the way the teal top in this outfit by Modcloth worked with the pencil skirt.  Also, like navy, teal is considered a universal color, so it flatters most skin-tones.  With the colorblocked handbag, used in a previous look, the nude pumps and these gold earrings by Betty Carre and bracelet by Stella & Dot, the teal top gets to stand out while harmonizing with the rest of the outfit at the same time.

Repost This Article