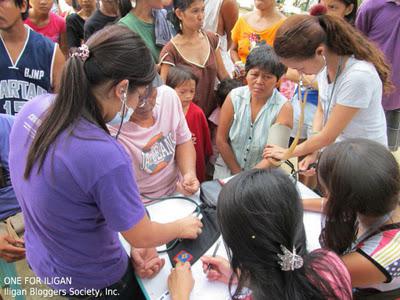 On December 22, 2011, I received an email from Hermilito Go with this message:
Calling all foundations, government or NGOs, friends and to those people who have giving heart. It's been been almost a week, pero wala pajuy naka-anhe dire nga support sa among area. Please lahos pud mo dire sa PUROK 9-A BAYUG. Luoy na kaayo mi dire specially ang mga bata. No FOOD, WATER, CLOTHES, MEDICINE. Please contact me through my cel# 09267543794 if ever maka-anhe mo para matipok namo ang mga residence sa amo court. The place is PUROK 9-A BAYUG, SALDIA BASKETBALL COURT. Salamat jud kau.
Upon reading this message I directly dial my phone to verify the said information, but I cannot get through so I sent a message to the number given above to contact me through text message or a call. Then my phone rang and I talked to John Roger Saldia.
Saldia confirmed the information, and told me that there was this group who promise them a relief operation that day but never arrived.  People at their place are hungry and wounded. They need food, clothing and medicines. He further added, that in their Purok alone there were more or less 400 people in estimate count, but as neighboring purok heard that a group of people are visiting their place to give relief goods they reached the total head count of 1, 397.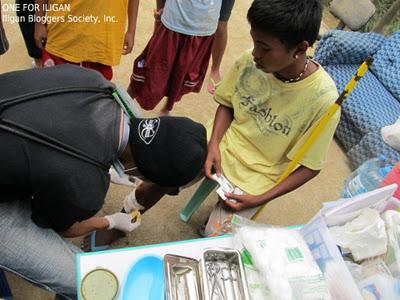 During that day, the One for Iligan volunteers are busy sorting, repacking and preparing for the relief goods that we received from Iliganon sa Manila Inc., 
After confirming this information I relay the information to the One for Iligan team that we have this needs. After the sorting and repacking we decided to promise to the group of Saldia to bring 600 number of relief goods, 600 pax of lunch with water and a group of nurse volunteers who serves as our first aiders. This is our total capacity of the day as we are lack of volunteers.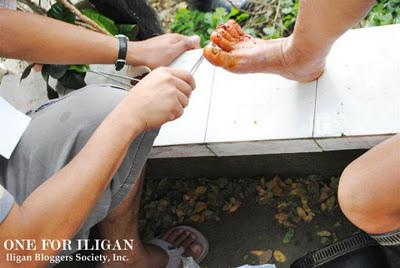 With the hope of letting other institutions know about this information I reposted this in my facebook account and let others share it too when they come across to it, then my friends starts sharing it. Bravo! when we were at the location One for Iligan is truly ONE!!! not just just us and another one group went there to help but more groups went there yesterday---but to avoid politics I wont be naming them here in this article. I hope they wont mind about it---that is if their intentions is to help these victims of the flood.
Yesterday, I was so glad that we did not just successfully help Purok 9-A Bayug but another locality of Kabugason Hinaplanon.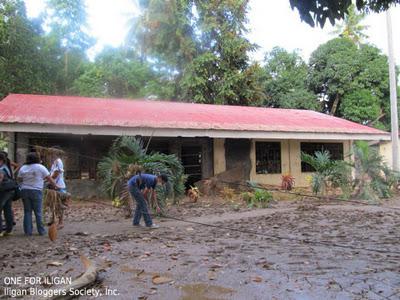 Can you see that brown line, which serves as a marking line showing how deep and how high the water during the flash floods.
Upon arriving the area, I was really teary eyed, while seeing the used to be a place of happy community ---which is now a already a devastated ruins. 
While handling food to the people who are obviously hungry---I cant help but appreciate optimistic smiles in their faces especially in their eyes. There are some of them who uttered "thank you, at least we are still alive" which made me happy---and believe that there is still hope for recovery.
But, when were going home I was sad to know that one resident will have to be brought to the hospital because first aid is not enough for the suffering she has been enduring since the Sendong flash floods. She was really bruised. When we are about to pass at the location where their house used to be standing, she cried into tears and said "I don't want to see my house, where only one post is left." 
Well obviously my tears fell down once again!_____________________________________________________________________________
To those donors who did not even hesitate to share pledges through their Paypal donations and even those souls who handed down their donations to me, these is where your donations go. Its really a blessing to share what we have to our brothers and sisters who are now lowly. By the way, the help you can give is not limited to cash and paypal only. You can also share goods such as in can, rice and etc. Just be coordinated accordingly. Helping is still on-going. When will it ends? We don't know yet!
THANK YOU SO MUCH!!! THANK YOU SO MUCH!!! THANK YOU SO MUCH!!!