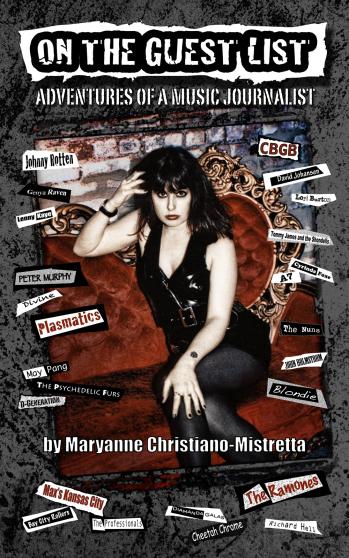 Today I am pleased to be able to reproduce an interview with Maryanne Mistretta on the subject of her new book "On The Guest List: Adventures of a Music Journalist"! A big part of my work at the moment focusses on gaining exposure for a number of music acts that I am part of and getting the attention of the press can be a chalenge! Maryanne's book sounds fascinating for anyone even vaguely interested in the subjects of punk rock, music history and music journalism. Enjoy:
Finding Your Way into Print: A Talk with Music Journalist Maryanne Christiano-Mistretta
By Cynthia Santiglia
The art of getting your name out there in the press, most musicians know, has a direct effect on exposure, and ultimately, on an artist's bottom line. This comes more naturally to some than others. We spoke with author, respected music journalist and New York City music industry fixture Maryanne Christiano-Mistretta for an insider's perspective on musicians' relationships with the press.
Cynthia: Tell us a little about your history in the music scene, Maryanne.
Maryanne: I've been a music fan since – forever. I remember being a little girl in the 1960s hearing all the top hits on the radio like Lou Christie, probably from age 3 onward. My mom loved Tom Jones and Barbra Streisand. My grandmother listened to WNEW-AM, so I was exposed to Dean Martin and Frank Sinatra. My grandmother also worked as a short order cook in a tavern. I'd go with her with a bunch of dimes for the jukebox that played current hits. There was a top 40 band that played there called Donna Lori and the Music Box. I was in awe of the singer who had long black hair like Cher.
So you got started young!
Absolutely! When I got older I started going to concerts and was fortunate enough to catch the tail end of the punk and new wave scene in NYC. I went to Max's Kansas City, Peppermint Lounge, The Ritz – every night. You could go to Peppermint Lounge on a Monday night, and if you got there by 11 p.m. you only paid a penny to get in! I rarely got home earlier than 5 A.M. I'd write in my diary, take a shower and go to work. That was my life. I worked in the corporate world in my earlier days and took journalism classes on the side. Eventually, I started working for music companies like Latin Percussion and Long & McQuade Music.
How did you get into music writing?
Early on, I started helping a friend write a fanzine and really enjoyed that. And at all the corporate places I worked, I wrote for the company newsletters, I was always writing. In mid-1990s I started interviewing bands for Tattoo Review and In the Flesh magazines. After that it snowballed. I went on to write theater reviews for several NYC newspapers like The Chelsea/Clinton News and the Westsider. Then I began writing for music.com, Punk, The Aquarian and The Montclair Times.
Do you think artists can really benefit from developing a rapport with their local music journalists?
Oh absolutely! Off the top of my head, I remember writing feature articles in The Montclair Times for bands that performed at Tierney's a popular local venue. SO many people would come up to me and say, "I came because of your article!" Press really does help.
From your insider's perspective, what do you think bands should do to get noticed? Is it all about the music, or is image as important as it seems?
I'm huge on image. I love all the Chers, the Freddie Mercurys, the Lady Gagas. I think if you're on stage, you shouldn't look like everyone else on the street. I love excitement and gimmicks. I still miss the onstage antics of The Plasmatics. You want to see a SHOW – cars blowing up, beautiful women, guys in tight clothes. Hell, you can even look like Meat Loaf and be sexy! When I was only 14, I saw him onstage acting all hot, rubbing up against Karla DeVito, it was mind blowing to a kid! He was wearing a tuxedo and was all sweaty. But he tapped into his confidence and it worked in his favor. Not to say I had a teenage crush on Meat Loaf – but I was in awe at how larger than life he appeared.
Do you think it's easier to cultivate an entertaining image nowadays?
It's a bonus that in this day and age creativity is more acceptable. When I was a kid, I got rocks thrown at me for going to school with a little Clash button on my t-shirt that you could barely notice. I'm so happy for kids today. I see kids in the suburbs walking to school with Mohawks and pink hair – it's great! They're adorable and so much more open-minded towards each other. You'll see the geek with glasses hanging with a friend who has a shaved head. I wish life was like that when I was young. Not to downplay the seriousness of how bullying still exists … [sighs] some steps forward and many steps back, right? But back to style, even for myself, I want people to look at me and think, "She's a music journalist or music lover." Over the years I've had so many people approach me and ask if I was in a band. I have a visible tattoo of a 45 rpm adaptor on my wrist that I got to celebrate having my first music article published world-wide. I just think people – men and women — are more beautiful when they stand out a little bit. Be YOU-nique – it's a great cliché to live by!
When you were covering bands, how did you like best to be approached?
Usually it was me doing the approaching. I was always on the outlook for bands/musicians to interview. At The Montclair Times I was on the list for all the record labels. I'd get stuff in the mail and ferret through to see what CDs I'd want to review and who I'd want to interview. Or an editor would approach me with a story. Very rarely did bands approach me – no one knew who I was, ha-ha! *smiles*
Were there turn-offs that made you less interested in an artist's story, even if you liked the music?
Oh my God, yes! When I was in my early 20s, I lived with a guy who had a cousin that was the lead singer of well known goth band. I loved the music and went to see them several times. Yet the cousin hated me. I later found out it was because I looked like a girl who broke his heart – but still, definitely no reason to be hatin'! It's not my fault she was cute, right? This guy never said "hello" to me. I said "Hi" but he didn't answer. He'd call my home and ask for the guy I was living with, never acknowledged that I was there. A total creep! And this was a guy I sat next to at weddings because I dated his cousin a long time! So, it's not like he didn't know me, yet he was still rude. Anyway, years later when I was writing for The Aquarian, I got an email from his publicity person – in the subject line: An Interview MUST! (How obnoxious, right?) I deleted it. Never interviewed the guy. Had zero interest.
That's a good example of how sometimes it's about what NOT to do. Any tips for artists who want to go after media coverage, but don't know where to start?
Definitely call all the local newspapers. Contact magazines. Journalists are so easily accessible. One of my editors used to tell everyone his phone number was listed in case anyone ever needed him. I think promotion is so key. Get a good publicity person! Get on the local radios. Get in all the newspapers. Also make sure you have a great publicity shot. I'll never forget interviewing David Johansen for The Montclair Times and receiving a measly black and white shot from his publicist. We wanted to put him on the cover of the entertainment section, but we couldn't because black and white wasn't cover material. The publicist couldn't get us a color picture, so we ended up putting a local musician named Cate on the cover. Cate was a perfect example of a musician who knew how to promote himself. He was always sending us press releases, updating us on where he was performing. Hell, the dude even made all natural Cate cookies with his picture on them – and they were delicious!
Your upcoming book is called "On the Guest List"- sounds like you have a ton of interesting stories to tell that both musicians and fans will love hearing! What inspired you to document your experiences in a memoir?
It was never on my agenda to write a book. One day my husband and I were talking to a guy, Ron,  who owns a small video store at Collingwood flea market down the Jersey shore. He is really into punk music and we hit it off.  I told him a few funny stories and he said, "I'd read a book with stories like that." I said, "Really?" I never thought my life was special, but the thing is – my story is everyone's story. I'd like to believe there's a little something that anyone can latch onto – even if they are not on the same page with music. Judy McGuire, columnist/author, wrote one of my endorsements. She gave a great compliment saying that unlike other rock 'n' roll memoirs, I start as a music fan and end a music fan. There's no drug addiction or downward spiral. It's just a happy, feel good story. I will share that the edge of the book is that I am very against certain negative things in life such as jealousy and bullying – and I make it no secret how I feel about that. I hope the book will inspire young kids who are being bullied and make them realize, there's a big world out there and there's a place for everyone to feel they fit in. For me, it was always with the musicians. Hell, I can't even brush my teeth without a record on! I need music – almost constantly!
Can you give us a little sneak peek?
I'm often getting myself into these "I Love Lucy" screwball comedy situations. One time I got locked in Max's with friends- and we had to break out! Within minutes the cops came and we ran for our lives. Another time I was with a friend who was interviewing Cheetah Chrome for a radio show. I somehow got locked in his bathroom! Another bathroom story … over the years I somehow ended up being friends with Lenny Kaye of The Patti Smith Group. A new magazine I was writing for was having a premier party at Sapphire Lounge in the East Village. I casually invited Lenny, never thinking he'd show. Well, here I am in this dinky bathroom and the editor knocks on the door, "Maryanne, your guest Lenny Kaye is here!" I already had a few beers, and you know how that is – so I'm trying to rush my business- just to greet Lenny Kaye
Haha! It's going to be such a fun read. Thanks so much for talking with us today, Maryanne!
My pleasure!
Cynthia Santiglia is a freelance writer, copyeditor, singer, and swing shift convenience store clerk. Love notes welcome at [email protected]