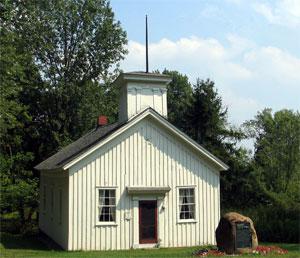 The South Newbury Union Chapel in Newbury, Ohio.
Last time, I told you the story of how Susan B. Anthony had one chance to vote for president of the United States in her lifetime, in 1872,  and was thrown in jail as a result. (Click here for the story.)
Here's a photo sent by Guest Blogger  Jim Robenalt taken from
Remarkable Ohio
, the fine website of the
Ohio Historical Society
, showing the South Newbury Union Chapel, where Susan B. Anthony gave many of her subsequent speeches on women's suffrage.  Note how small the building is, but how big an impact had.  Here's the description:
           "Called the 'Cradle of Equal Suffrage' and 'Free Speech Chapel,' Union Chapel was to be '…open and free for all denominations, but to be monopolized by no one or to the exclusion of anyone.'
           "Built in 1858 or 1859 on land donated by Anson Ma
 it 
tthews, the chapel reputedly exists in response to incident triggered by James A. Garfield, then principal of the Western Reserve Eclectic Institute (now Hiram College) and later president of the United States. He was scheduled to speak at the Congregationists' 'Brick Church' in December 1857. Because of the supposed controversial nature of Garfield's speech, however, the invitation was withdrawn. 
 Outraged citizens built Union Chapel in response. 
           "Fulfilling its mission, the chapel welcomed groups crusading for many causes in late 19th century America, including women's dress reform and temperance. One of the most active groups at the chapel was the Newbury Woman's Suffrage Political Club, founded in January 1874. The chapel was the club's meeting place and the site of lectures by Susan B. Anthony and Harriet Taylor Upton, leaders in the woman's suffrage movement. The chapel also hosted singing schools, plays, and other social, religious, and political gatherings."
Next time you're in Ohio, check it out.