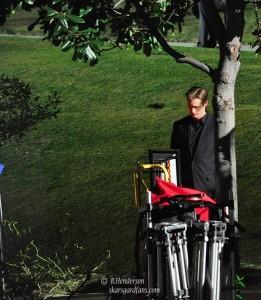 Recently on Skarsgardfans.com, images have emerged of Alexander Skarsgard (Eric Northman in HBO's True Blood). These pictures are taken on set from the upcoming Season 6 of True Blood. As yet there are no confirmed story lines to go along with the images, but it shows a very well-dressed Eric Northman outside after dark.
The full set of images can be seen here.
What do you think the story line may entail? Let us know in the comments below with your Season 6 ideas.
Source: Skarsgardfans.com - True Blood Season Six On Location Images Eric Northman
(Photo Credit: B. Henderson/Skarsgardfans.com)