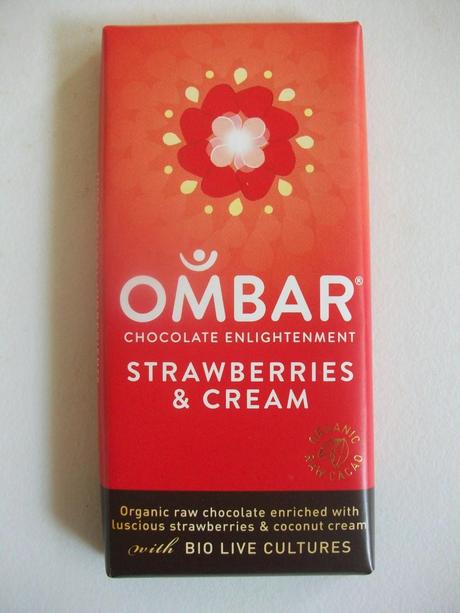 Whilst in my local organic store recently I fancied something a bit different and decided to give this "Ombar strawberries & cream" a try. It's an organic raw chocolate bar, sweetened with coconut sugar and enriched with strawberry powder and coconut cream, as well as containing live bio cultures. It's also suitable for vegans. It cost me £2.20 for a small 35g bar so I was expecting something amazing...and it didn't disappoint!
The bar is split into fairly thick sections, and on opening the wrapper I was met with a delightful fruity strawberry aroma as well as some very rich cocoa scents.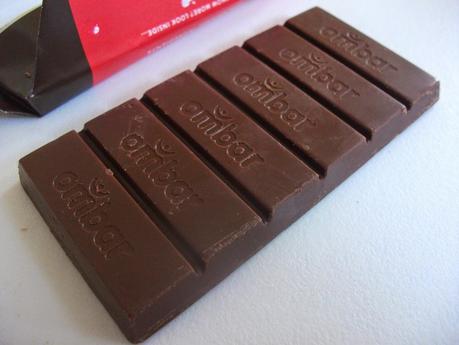 Popping a piece in my mouth I was met with the delightful taste of fresh strawberry and rich cocoa. The chocolate was a lot stronger than the average bar thanks to the addition of raw cacao, with a more complex flavor. The coconut sugar wasn't as overly sweet as regular sugar and was much better for it, whilst the strawberry powder added a fantastic fruitiness. The addition of coconut cream in place of milk powder made the chocolate very creamy and smooth, without tasting sickly. Of course, this also makes the bar vegan and suitable for those with dairy allergies which is a great bonus!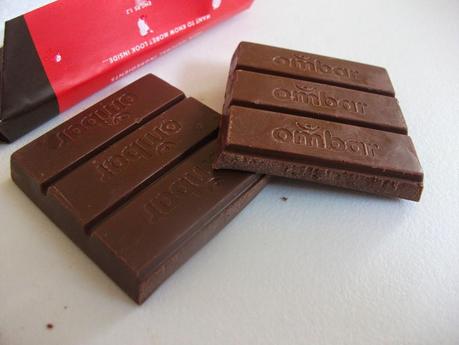 I thoroughly enjoyed every piece of this little bar and would happily pay the high price for it again. It satisfied me a lot more than most mainstream chocolates and in fact it's one of the nicest bars I've tasted this year! The Cadbury Dairy Milk Strawberries and Creme bar is nothing compared to this.
Overall, a fantastic chocolate bar that is extremely satisfying and worth every expensive penny. I can't wait to try more from the Ombar range...if my wallet will allow me!


RATING: 9.5 out of 10.  


Price: £2.20.
Suitable for vegetarians?: Yes, and vegans.
Allergy Information: Ombar is gluten-free and dairy-free. May contain traces of nuts & soy.
Nutrition (per bar): 174 Calories, 14.7g Carbs, 11.6g Sugar, 13.3g Fat.
More info: Ombar's Website.
To purchase Ombar online: The Raw Chocolate Shop.