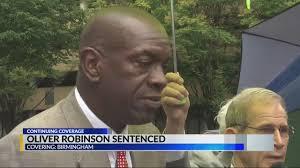 Oliver Robinson
Former Alabama State Rep. Oliver Robinson (D-Birmingham), recently released from federal prison because of COVID-19 concerns, could become a witness in at least two lawsuits connected to corruption-plagued law firm Balch Bingham,
according to a report at banbalch.com
.
Robinson's interactions with Balch and Drummond Co. led to his guilty plea in the North Birmingham Superfund bribery scandal. From
a report about his release at al.com
:
Former state Rep. Oliver Robinson, convicted in a federal bribery case, was released from a federal prison in Texas as part of the Bureau of Prisons' review of inmates with risk factors due to COVID-19, his lawyer confirmed.


"He's obviously relieved to be released," said Richard Jaffe, the Birmingham attorney who represents Robinson.




Robinson, 60, had originally been scheduled for release on March 30, 2021.

In November 2018, he had begun serving a 33-month prison sentence for his role in the EPA scandal in North Birmingham that also ensnared David Roberson, a former vice president of Drummond Company, and former Balch Bingham attorney Joel Gilbert.
Robinson's issues with court-related matters, however, might not be over, reports
banbalch.com
publisher K.B. Forbes:
Disgraced ex-Alabama State Representative Oliver Robinson was released from federal prison . . . due to concerns of the COVID-19 pandemic, according to al.com.
Robinson was given over $360,000 in bribes in a criminal scheme born in the offices of Balch Bingham to suppress African-Americans in North Birmingham from having their toxic property tested by the EPA. Robinson had been sentenced to 33 months in federal prison.
Ex-Drummond Executive David Roberson and ex-Balch Bingham partner Joel I. Gilbert have also been sentenced to federal prison although their cases are currently on appeal.
Returning to home confinement, Robinson has emerged as a key witness in two pending cases: David Roberson's $50 million civil lawsuit against Balch and Drummond Company; and a potentially devastating civil RICO lawsuit from Birmingham attorney Burt Newsome against Balch, Alabama Power, and others.
What role could Robinson play in the civil matters?
Robinson, who DOJ insiders told us was "genuinely remorseful," will be able to connect the dots and lay out the other Balch lawyers and stooges involved in the North Birmingham Bribery Scheme.

More importantly, Robinson could possibly testify about a pattern of alleged unsavory conduct involving Balch, Alabama Power, and state and local officials.


Judge Carole Smitherman, the Queen of the corrupt Star Chamber that screwed over Burt Newsome, and her husband, State Senator Rodger Smitherman, who received over $30,000 from Balch affiliated entities or allies, were close friends with Robinson.