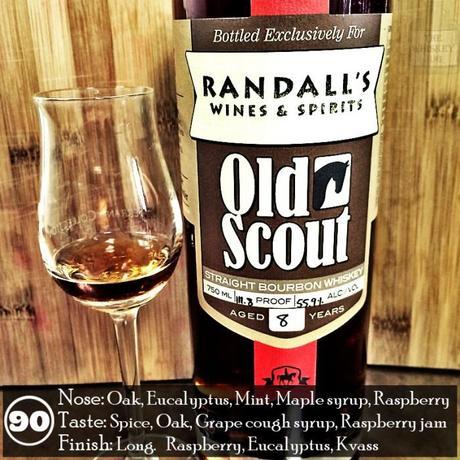 Old Scout Bourbon is put out by Smooth Ambler Spirits who is a Merchant Bottler (NDP) and it is so very cool that they do not try to hide the fact they source their juice from other distilleries. Why is that? Because even if they do not make it they manage to source and bottle great bourbon! We here at the Jug have no problem with brands using distillate from other sources as long as they are transparent about it and, like High West, these guys are completely upfront about it.
Heck, selling independent bottlings of Scotch is how I learned about whisky and some of the best whiskies that I have ever had in my life were from sourced juice. However the one thing I wish that Old Scout would do is disclose the distillery for each release. I understand why that's not always possible, but I can wish right?
Old Scout Bourbon 8 yr Review – Bottled Exclusively for Randall's Wines and Spirits 
Bottler: Smooth Ambler Spirits
Age: 8 years
ABV: 55.9%
Price: $50
Cask #40
EYE
Dark bourbon brown.
NOSE
Deep oak, eucalyptus and mint with maple syrup and raspberries. The nose on this bourbon is nice and rich. This is showing promise, I hope the taste is just as impressive.
PALATE
Spicy cinnamon oak followed by an oddly appealing grape cough syrup and some raspberry jam.
FINISH
Raspberry dominated with the eucalyptus coming back for an encore. It calms down after a bit and reminds me of a nice Kvass. (Russian Malt Beverage)
BALANCE, BODY & FEEL
Super balanced, rich and warm with a chewy viscous texture. I'm digging this one.
OVERALL
I'm really glad I got to try this bottle of 8 year Old Scout Bourbon. The person who picked this cask really knew what they were doing; it's an excellent single cask of bourbon. Though just to be sure it was truly deserving of my excitement I poured a couple of other good whiskeys and then came back to this one to see if it still held up after sipping on some others and I'm happy to say that It does.
SCORE: 90/100