New to little Indiana? Subscribe for free to my RSS feed. Thanks for stopping by!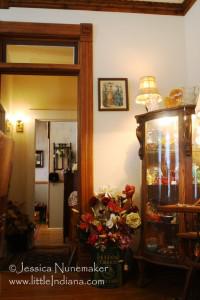 Old Farmhouse Antiques in Hebron, Indiana
Browsing through Indiana antiques is so much fun! Old Farm House Antiques in Hebron, Indiana is phenomenal. Every item is in superb shape–and what's more fun than an antique shop that takes up a whole house? Nothing!
Old Farm House Antiques
And what a house it is. Great wood flooring, lovely original woodwork, plus stained glass doors and windows. Beautiful and full of character and, really, the perfect setting in which to place loads of wonderful antiques.
You can bet we left the kids behind this time! They don't do so well with that whole "look but don't touch" rule yet.
These Indiana antiques are located right next to Hebron's high school. So, really, you can't miss it! Hey, we didn't miss it or get lost and, well, we're kind of famous for doing both. Just ask hubs about the trip we made when we moved to where he was stationed in South Carolina. I never thought I'd see civilization again!
Old Farm House Antiques has a lot of interesting pieces that we hadn't seen or heard of before–like a Prayer chair. Kind of neat! Really, everything is in such great shape in this well-kept Hebron, Indiana shop.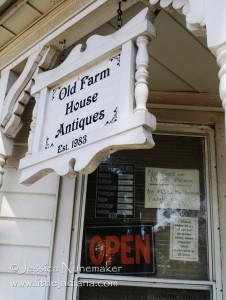 Old Farmhouse Antiques in Hebron, Indiana
The couple who own the shop  are very friendly and can tell you a story or two! They make their way around to many of the antique shows scattered across Indiana. It's possible you've even seen their stuff and didn't even realize it.
Indiana Antiques to Fill a House
Just checking out the house is fun–throw in a super fantastic antique shop and what a great way to spend an hour or two in a small Indiana town! Now that's an afternoon well spent.
I'd recommend stopping in to Old Farm House Antiques for high quality antique furniture and items. There's none of that junky stuff here!
Find Old Farmhouse Antiques and other pictures in Indiana on my Flickr photostream.
Old Farm House Antiques
409 S Main St
Hebron, IN 46341
219.996.5329

View Larger Map
little Indiana: Where to Stay, Play, and Eat in Small Towns in Indiana. Discovering Indiana's best small towns! Now get little Indiana on your Kindle.
New! Offering affordable online advertising for your small Indiana business! little Indiana Businesses is the online presence that you've been looking for.