by Jefff Spross / Climate Progress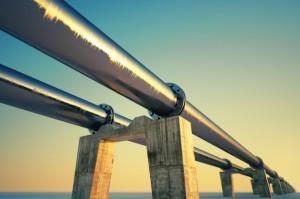 The southern leg of the Keystone XL pipeline begins shipping crude oil Wednesday, the Washington Post
reports
.
Because the southern portion only runs from Oklahoma to the Texas Gulf Coast, thus crossing no international boundaries, it did not require approval from the State Department. The proposed northern leg, however, would cross the U.S.-Canada border, and the Obama Administration has yet to issue its final decision on whether to approve it.
The northern leg would create a direct route by which Canadian oil sands — one of the most carbon-heavy forms of crude — could reach the global oil market. The environmental movement has acted to oppose Keystone XL en masse, making approval of the pipeline one of the most bitterly disputed issues in U.S politics.
The State Department's controversial initial draft assessment of the northern leg assumed its climate impact would be minimal, because without the pipeline the oil would simply be shipped by rail. But multiple studies and the heavy investment of Canadian oil producers in the pipeline's construction belie that assessment.
There's also the issue of leaks. TransCanada, the company that would construct the Keystone XL, has already had to repair 125 dents and sags in the southern leg. The Washington Post reports that Texas landowners have already launched a new oversight network — a kind of "giant neighborhood watch" according to Julia Trigg Crawford, a northern Texas landowner — to monitor the southern leg for leaks and other problems. The landowners argue the Hazardous Materials Safety Administration lacks an adequate number of inspectors, and the Administration itself told TransCanada in September they'd observed dents in the southern leg and that TransCanada had "failed to use properly qualified welders."
A September review by the Wall Street Journal found that, more often than not, it's local residents that spot the leaks in oil pipelines rather than a pipeline's dedicated leak detection equipment.
TransCanada spokesman Davis Sheremata told the Washington Post in an e-mail that "heightened standards for pipeline integrity" were what drove the high number of repairs, and that just three-one-hundredths of one percent of the southern pipeline have required replacement.
Supporters of constructing the northern leg also argue the project will create jobs. But multiple assessments show construction would create at most 20,000 short-term jobs, and a minuscule 35 permanent jobs. Meanwhile, upgrading and repairing the country's existing pipeline infrastructure would create several times that amount.