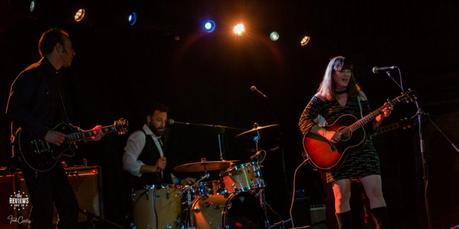 Oh Susanna aka Suzie Ungerleider, was our first NXNE headliner of the year. It was a beautiful choice.
Mo Kenney
Opening up the set for Oh Susanna was Mo Kenney. Personally invited by Suzie, we found out very quickly why. The native Nova Scotian is mesmerizing. The singer-songwriter is quiet in manner, low key, but still very engaging. Her songwriting is honest and at times uncomfortable, possibly because they touch so close to home.
Mo Kenney is a storyteller, and she's telling stories I want to hear, over and over.
Her past hasn't been easy, but we, as listeners, get to benefit from the tales she tells. She's been at this since she was 17 and she's had some collaborative input from Maritime rock legend Joel Plaskett.
Friday night, it was Mo and a guitar, and it was everything. I look forward to seeing this talented performer again.
This slideshow requires JavaScript.
"In a world where connection becomes increasingly scarce, there's a quixotic stubbornness in Kenney's songs, an insistence that forging a bond is worth all the unavoidable pain and heartbreak and self-destruction that might be wrought from it. And there are few songwriters who are able to create such unforgettable melodies while communicating just how rough the ride can be." - via Mo Kenney's Bio
Mo played her new song, Ahead of Myself, along with Unglued and a handful more. She finished out the set with a haunting version of Patsy Cline's, You Belong To Me, and it was perfection. While on stage Kenney joked about having a Toronto taco ritual and she beamed when talking about the venue, saying, "I've played upstairs before, but this room is beautiful."
Longboat Hall is dark and intimate. It's lit by Edison bulbs and warm red, purple and yellow lights. A perfect setting for this set of performers.
Oh Susanna
Up next was Oh Susanna. Suzie arrived with three additional players, a guitar player, a bass player and drummer. Suzie rounded out the band on acoustic guitar. But, to be honest, it felt and sounded like there were more people up there. It was rich and deep, without being too loud.
From the moment she opened her mouth, I was in. To say that she played her voice like an instrument is an understatement. She had amazing control, range, tone, and there were moments when she gave me goosebumps.
She had amazing stories to go along with that voice, and the one that spoke to me the deepest was The Bridge. This morning, I had search back to 2000 to find it on her album Johnstown, and I advise you to go check out that album too. She told the story of a woman who felt like her only option out of her marriage was to end her life. It speaks of violence within herself and the violence around her. She tells the story in a way that makes it impossible not to understand the grief and sadness. While listening last night I wished for a little steel pedal guitar, but when I played it today on Spotify there were strings, and that seemed perfect. It's a beautiful, sad song.
Suzie joked about her marriage and said she sometimes feels like she's two people. She's a touring musician, and her alter-ego dusts the furniture and scolds her children.
In addition to the full band, we had the pleasure of hearing Suzie sing a cappella, and she also had Justin Rutledge join her on stage.
Oh Susanna isn't a new band that we've just discovered. Suzie has been releasing albums since 1997. She's been nominated for 2 Juno Awards for Best Roots and Traditional Album, won Genie Award for Best Original Song and won Canadian Folk Music Award for Best Songwriter. She's the real deal.
Suzie currently calls Toronto home, and the talented songstress was in fine form at Toronto's Longboat Hall.
This slideshow requires JavaScript.