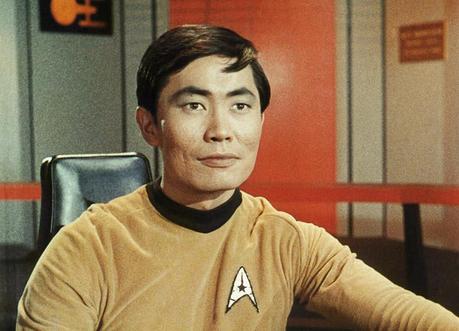 George Takei in his iconic role as Sulu from the original Star Trek television series.
Most of our shoemaking elves are big fans of George Takei. For those who aren't even Trekkies, the actor's viral Facebook posts, outspoken support for equal rights and playful sense of humor have won us over. It's even more astonishing to learn how Takei persevered and excelled after his childhood in a Japanese internment camp and his lifelong struggle against discrimination.
When we learned about To Be Takei, the upcoming documentary about his life, some of our elves were overwhelmed with excitement and decided to send a gift to the beloved helmsman.
The result? A custom pair of Design-Your-Own Dash RunAmocs in the colors of the film's poster... with some shiny gold laces to help them stand out.
We hope George likes them! We also decided to give these shoes the honor of being our latest Design-Your-Own Shoe of the Week.
If you haven't seen it yet, here's the trailer for To Be Takei:
Also, we couldn't resist sharing some of our favorite posts from George Takei's incredibly popular and hilarious Facebook page. If you're not already following him then we strongly recommend checking it out:
Post
by
George Takei
.
Post
by
George Takei
.
Post
by
George Takei
.
Post
by
George Takei
.
Post
by
George Takei
.
Post
by
George Takei
.
Related Posts:
Royal Shoes for the New Prince