Oh, Fashion Fairy....come out, come out, wherever you are!  I have something I need you to see!
I'd love one of these absolutely scrumptious Louis Vuitton NN14 PM Belle de nuit bags!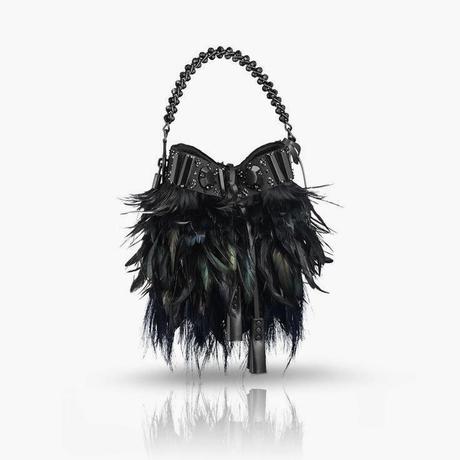 I simply died and went to heaven when I opened up my
Glamour
magazine and saw this bag!  As I turned the page, it literally jumped off the page. As Glamour puts it, it is definitely "one standout bag"! Oh, and it was designed by Marc Jacobs (his final collection for Louis Vuitton, it debuted at the Spring/Summer 2014 women's fashion show).  And there was only a limited number made - duh!!!
I agree with Glamour it is a "
showstopper"
!  Not sure where, I'd where but, I'd find a somewhere and something to pair it with!  No worries here.
I'm in love with it first and foremost due to the feathers but it has just the "right amount" of leather, chain and bling...the precise amounts!  Yes, "some" might think it's a little over the top but, I don't care one single bit!  Nope, I don't.  I'd wear it.  Proudly too, I might add!
Anyhow, I'd love for the Fashion Fairy to
drop it in my closet!  Hehe.  I'm dreaming I know, but, then again, it's nice to dream...

What's your thoughts...would you like an NN14 PM Belle de nuit bag?  Hm mm...  I'm in love with it! Obsessed rather, can't you tell?!
If you'd like me to add your name to the list for the Fashion Fairy to get it for you - leave a comment below and let me know.  If you are in a mad rush and simply cannot wait for the Fashion Fairy you can
click here
 for the contact information to purchase.  
Although, I've got a feeling though you'll need to wait for the Fashion Fairy like me!