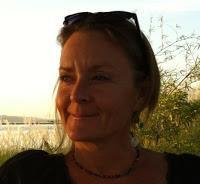 We're pleased to welcome Kim Roberts as our guest today. Kim 
teaches mindfulness practices such as yoga and meditation and coaches clients at
New Life Foundation
in Chiang Rai, Thailand. Summers she spends writing, practicing and cavorting with elk at her retreat home in
Crestone, Colorado. 
Her new ebook, Ashtanga Yoga for Beginner's Mind, was just published on Amazon. 
Learn more about Kim, her travels, her practice and her writing at: www.toolsforevolution.org
I'm walking down a lazy dirt lane in the late afternoon heat of Northern Thailand. A gaggle of ducks waddle about, making their way to a large pond for their afternoon dip.  Rice paddy extends to low hills in the distance and as I approach the meditation hall where I am to lead the afternoon meditation, the canopy of teak forest provides a welcome relief from the sun.
Chiang Rai (not to be confused with Chiang Mai, her more farang inhabited big sister) is the frontier of northern Thailand's hill tribes. Here is where you find tea and coffee plantations, traditional culture, and a slow taste of how Thailand was before tourism. The surrounding area is also one of the world's most thriving opium and methamphetamine producing regions in the world. Which perhaps explains why a mindfulness based recovery center located itself here.
Simply being fully in the present moment is a healing practice. By being more aware of body, thoughts and emotions you will receive signals about what's out of balance. Mindfulness teaches you to respect these signals and welcome them instead of pushing them away.
The New Life Foundation was founded by a Belgian entrepreneur 2010, as a place for people to come rest, recover, and learn about the healing powers of mindfulness practice. His own personal struggle found relief here in Thailand at the unique Thamkrabok Monastery Detox program, and his wish was to offer something in return, by creating a place where other struggling addicts could mend their lives through the miracle of mindfulness at an affordable, nonprofit organization. The organization first contacted me while I was living in Phuket and asked me to lead a weekend yoga workshop. At the end of the workshop they invited me to return and work there as a life coach.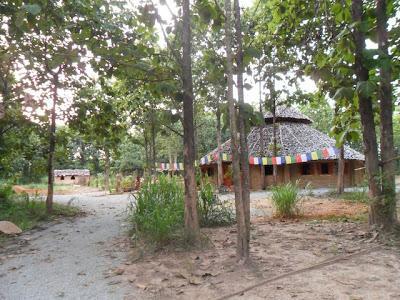 Photo courtesy Kim Roberts.
People come from all over the globe to become residents here, in order to establish new patterns and heal from a variety of issues: addictions, burnout, relationship issues, stress, mid-life transition, illness. Or they come to volunteer, sharing their skills as yoga instructors, life coaches, meditation guides, sustainable building engineers, or organic farmers. On weekends, residents and volunteers can participate in excursions to cultural attractions, hike to and swim in waterfalls, go trekking or kayaking, visit orphanages, or play football with the local villagers. People stay anywhere from one day to several months. The daily schedule includes morning yoga, silent breakfast, a community gathering followed by work to keep the facilities running, lunch, a creative or therapeutic workshop that focuses on mindfulness, afternoon meditation, and after dinner, an evening program that consists of a group check-in. Sometimes there are special presentations or movies or podcasts from Western Buddhist teachers are aired.
The facilities are located on 63 acres of land near the golden triangle in Chiang Rai province, which boasts plentiful natural beauty: lakes, mountains and hills, rice fields, forests, rivers, hot springs, waterfalls. On the land are two meditation halls, a swimming pool, organic farm, communal hall where three daily meals are served (with produce from the garden), consultation rooms for life coaching sessions, and around fifty single en suite guest rooms. Some of the communal buildings are built in traditional style, with teak leaf roofing and mud walls.
Over the past decades researchers and mental health professionals have been discovering that mindfulness practices such as yoga can alleviate almost every kind of psychological suffering. The increased awareness that results from mindfulness helps you to see what lies at the root of your behavior patterns. Once you can see the patterns, you then have the power to make choices, and eventually transform negative habits that perpetuate suffering. My own journey through yoga and meditation started 20 years ago as a graduate psychology student at the Buddhist inspired Naropa University in Colorado. The practices have been integral in helping me negotiate life's transitions and have taught me how to stay calm in the most difficult situations.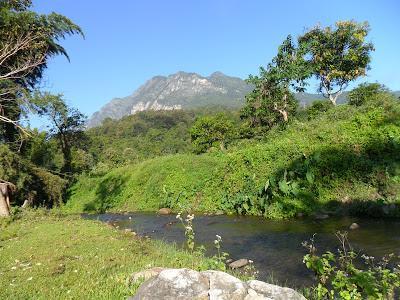 Photo courtesy Kim Roberts.
Eventually, the goal of spiritual practice is to remain present and aware during all our daily activities. The best medicine is ironically the most simply: stripping away the distractions that keep us from experiencing the beauty of the present moment. Which begs the question: is spiritual growth different from healing?
While the mindfulness element is based on Buddhist principles, there is no religious affiliation. The practices are intended not for adherence to any particular lineage, but rather as tools to help people work with their minds in a more friendly way or you could say, for spiritual growth. Because it is a Buddhist culture, Thailand is a natural fit for a center such as this. I was drawn to Thailand, and to Asia in general, to learn how Buddhist teachings can be applied to daily life and apparently am still enjoying what I have discovered, since I have worked in the region for 12 years now.
The foundation's mission is to cultivate a lifestyle that fosters inner growth and helps people to find meaning and purpose in life again. The foundation offers a unique learning environment based on mindfulness and sustainable living, where residents can learn to nurture and maintain their recovery—whether from substance addiction, grief, crisis or burnout.
With support from the community and guidance from the staff, each individual develops their own action plan that enables them to discover their potential and develop a new healthy lifestyle based on mindfulness, personal responsibility and respect. The most important tools on that journey are yoga, meditation and awareness practices.
The approach is to use a combination of practice and coaching to help residents discover their potential, regain a sense of self-value and find happiness in a new approach to life. Everyone experiences obstacles and suffering at some point in life, but these experiences can serve as a foundation to gain understanding of ourselves and life in general.  According to Buddhist philosophy, each of us has a seed of wisdom and goodness inside-- everything it takes to create a peaceful, equitable and sustainable existence. All we have to do is renew our relationship to ourselves through awareness practice to let that seed grow.