Why would I spend an entire Saturday, 7:15am - 8:00pm, at a
middle school
that is 40 minutes from where I live and and hour from the district within which I work? Must be an edcamp, right? No. Maybe a sporting event? No. Hmmm..... then why? Let me explain.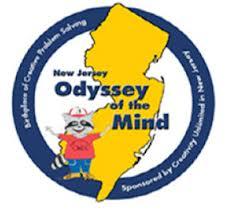 Last year and this year my daughter has had the great fortune of learning with a truly amazing teacher. One of those teachers who inspires you; one of those teachers who sees the best in you and makes it her mission to bring that out; one of those teachers that you truly love; one of those teachers who is the one you use as a security question online when you are asked, "who was your favorite teacher?" For my daughter Madalyn, that teacher is Mrs. Melissa Stager. I have had the pleasure of interacting with her on many occasions over the past two years because she is the teacher who encouraged Madalyn to try putting together a team to participate in
Odyssey of the Mind
(OotM).
OotM
has been an amazing experience for our whole family.  My daughter has found an amazing group of friends with similar interests.  My wife has now coached the team for the past two years.  My younger daughter and I have had the pleasure of taking part in numerous meetings, competitions, and events with the families.
OotM is basically a creativity competition with a long portion that is researched, created and presented at the competitions, and a Spontaneous portion, which is practiced prior; however, no one knows what these questions will be until they are given to the students with a few minutes to prepare.  That description does not do justice to the amazing learning and growing experience that Odyssey of the Mind provides to students.  The Regional and State Competitions take place all day on two Saturdays and the World Finals take place at a large University over several days (last year it was at Iowa State University).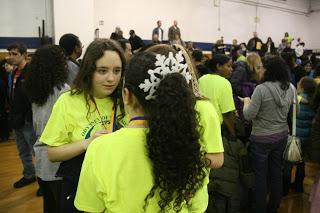 My daughter receiving her 1st place medal at Regionals
My daughter, after trying many sports, came to the conclusion that organized sports was not the path for her.  When Mrs. Stager suggested this avenue, it was like a whole world had been opened to her.  I am proud to say that last year my daughter was a member of the state champion team in her division and question.  They went to the World Finals and placed 25th out of over 50 teams from around the country and the world.  This year we just went to the Regional competition on Saturday and her team took first place once again.  Next month is the State finals.
(Please note that I am fully aware that the last several sentences are a shameless proud dad brag, but I am okay with that.)
The work students do to prepare for and perform in this competition is a perfect example of the 21st century skills that we talk about every day in education.  According to the
21st Century Fluency Project
, the 21st Century Fluencies include: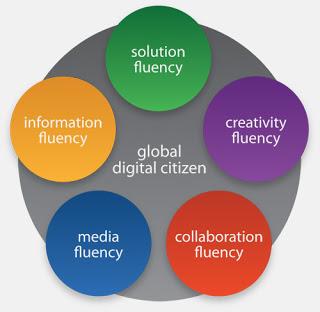 An investigation of the skills encompassed in this diagram (and I encourage you to click the links to the 21st Century Fluency Project) shows a wonderful connection to this competition that fosters 
creative thinking
, problem solving, using your resources to develop answers, discriminating between what works and what does not, working as a team, perseverance, and the list goes on.
Without belaboring the point, I would encourage anyone to check out the Odyssey of the Mind competition. I am going to investigate starting a team at my school in conjunction with the
PTO
.  I am hoping that we can bring this great opportunity to the children in our elementary school!!
So, hopefully I've answered my initial question. 
Why would I spend an entire Saturday, 7:15am - 8:00pm at a middle school that is 40 minutes from where I live and and hour from the district within which I work? 

Please leave a comment below if you are so inclined.