copyright 2016 Art of Living, PrimaMedia,Inc/Maria Liberati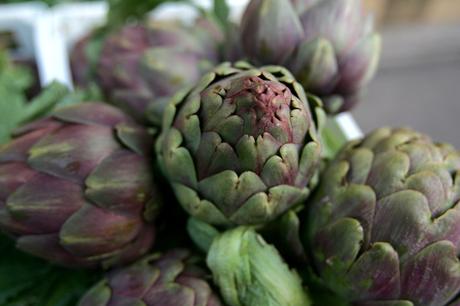 My Ode to an Artichoke..the vegetable that is all heart….
"A woman is like an artichoke, you must work hard to get to her heart." – Inspector Jacques Clouseau inThe Pink Panther (2006)
Pasta Shells (conchiglie) with Artichokes
1 lb of  Pasta Shells
1 tblsp butter
1 tblsp heavy cream
2 cloves of garlic
(Optional-2 sardine filets)
7 artichokes
A handful of fresh parsley and basil
2 tblsps extra virgin olive oil
Parmigiano Reggiano freshly grated to taste
Salt and pepper to taste
Cut the heart of the artichokes into small squares. Place olive oil in saucepan,add in garlic- whole or chopped, heat for 1 minute, then add in artichoke hearts and saute.
Remove from heat, place in half of butter, sardine fillets, Cover and cook for another 5 minutes over low heat.
Place a pot of water to boil. When boiling add in pinch of sea salt. Place in pasta shells and cook till al dente. Drain, place in saucepan with artichokes, add in remaining butter, cream. Gently toss pasta to coat with sauce. Grate parmigiano-reggiano cheese on top, toss gently. Add in finely chopped parsley Serve immediately.
For more delicious recipes get your copy of the Gourmand World Award Winning Book  The Basic Art of Italian Cooking: Holidays and Special Occasions-2nd edition