Getting together with some of the Sunday Supper bloggers and other food professionals that I have been working with for over a year had been on my radar since last year. I thought I might not ever get there, except perhaps, when pigs fly.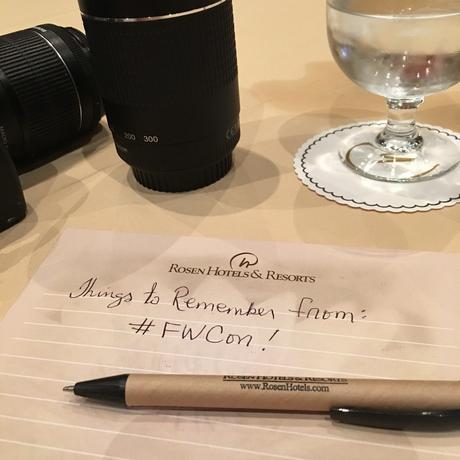 #FWCon '16: A Cincinnati Blogger in Wonderland
Food and Wine Conference |May 13-15, 2016 Orlando Florida
By Sue Lau | Palatable Pastime
(From "A Cincinnati Blogger in Wonderland" by Lou is Carol, the perhaps very-unknown food writer)
The Food Stylist and the Blogger
Walked on a mile or so,
Down the halls of Shingle Creek
With filled swag bags in tow:
And all the hotel bellhops stood
And waited in a row.
"The time has come," the Stylist said,
"To talk of many things:
Of cheese–and wine–and photo props–
Of blueberries–and Angus beef and denim-diamond blings–
And why Florida is boiling hot–
And whether pigs have wings."
"Oh they do in Cincinnati,"
the blogger demurely replied, sipping the last of her wine.
And gave her friend a nod and a knowing smile,
feeling absolutely fine.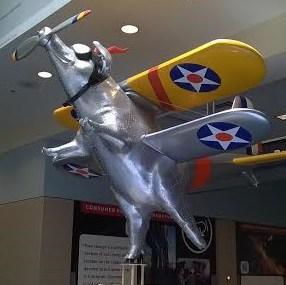 Flying Pig sculpture at Cincinnati-Northern Kentucky International Airport
In the past couple of weeks, I had the distinct and honored pleasure of flying down to Orlando Florida to meet some of my food blogging peers face-to-face at the beautiful Rosen Shingle Creek hotel and resort for Food Wine Conference 2016.
Rosen hotels are some of the finest, and even Prince Harry had been checked in as a guest up until the day I came (nothing like a bunch of "foodblogguzz" driving away royalty, right?)  You might wonder what "Shingle Creek" is (or what is has to do with a resort, if there is a creek on the property, or if the hotel itself has very nice shingles…) Shingle Creek, as I discovered during my stay, is what is known as the "Headwaters to the Florida Everglades". And while you might think that the wetlands that comprise the Everglades are indeed very far away from Orlando, it is true that the area north of Orlando is a bit hilly (hilly in Florida terms) and around Orlando it flattens out a bit and steadily declines in elevation going southward. When flying in, I could see many lakes in the area (ones I was not used to since when I lived in Florida there had been an extreme long-term drought). And if you wondered: yes, alligators do inhabit some of these lakes. But back to the con.
FWCon. I wanted to go last year. But in some twist of fate where bloggers plan and fate laughs, my brother Mike passed away suddenly and unexpectedly. And I had wanted to go…yet, I hadn't firmed up any travel plans. What held me back? Okay, money is probably the first answer to that question. I am not exactly independently wealthy, and food bloggers don't really earn that much (unless you are someone like Ree Drummond, who had an incredible, albeit well-deserved stroke of luck in her career. I applaud her!). Most bloggers just hope to scrape by on enough to quit their day jobs,  if they in fact earn  anything at all (and many do give selflessly of their time, so please offer your support when you can!) Or perhaps it was just a simple twist of fate. Heartbreaking enough to lose a sibling, it would have been even moreso if I had to turn right back around and find my way back home.
I had scratched together a bit of cash to go this year, but my husband was suddenly (and unexpectedly) laid-off from his firm, so any and all spending went into a deep freeze until we could figure out if we might be moving across-country on short notice (footing that bill ourselves, or taking a loss quickly selling our home).
But as luck would have it, Bill found a spot locally with another firm, and things proceeded swimmingly.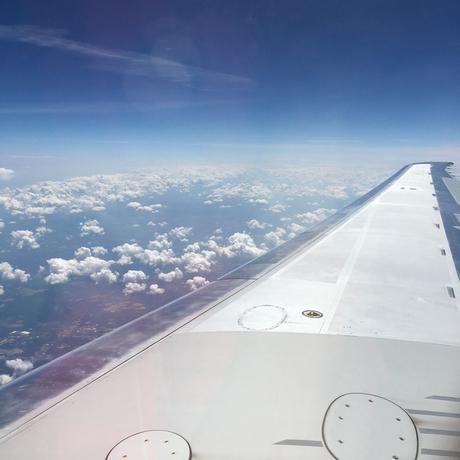 Somewhere over America…
I even managed to pack and get to the airport on time. And a few short hours later, the jet set down in Orlando and I set off at a jet's pace to catch up with friends at Morimoto Asia restaurant, in Disney Springs. And indeed I thought I had plenty of time to get to the hotel, go to my room, unpack, and get spiffied up before dinnertime. Not. Fate laughed again as the airport shuttle would its way around all parts of Orlando with me being the final dropoff. So I did scramble from the shuttle with bags in tow, and I think I am the very first person to go to Morimoto Asia with luggage. But a wonderful time was had by all, and I even told them the food was so good, that I would be moving right in (and that my luggage was evidence of it). Yeah, I know. Dragging suitcases and computers around while dining is a bit odd. But there is no way I was missing that dinner if I could help it! I have been a longtime fan of Iron Chef (original Japanese version), and Morimoto was always one of my favorites.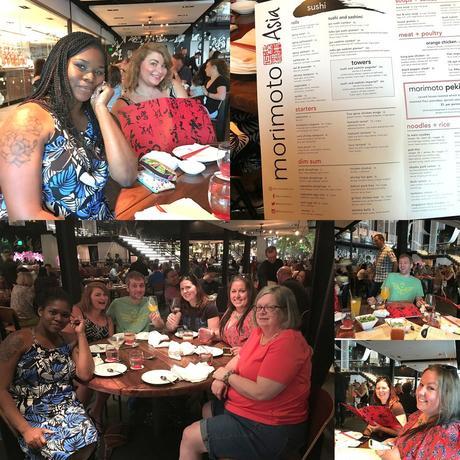 Dining with Friends at Morimoto Asia
Events at the con started on Friday afternoon with a reception in the check-in area and wines offered by CKMondavi. From there we were treated to a milk spa presented by Florida Dairy Farmers which included making natural facial masks and bath salts from  all-natural kitchen ingredients, strawberry milk mocktails, and even a couple of masseuses to iron out the tensions of attending a conference for the first time.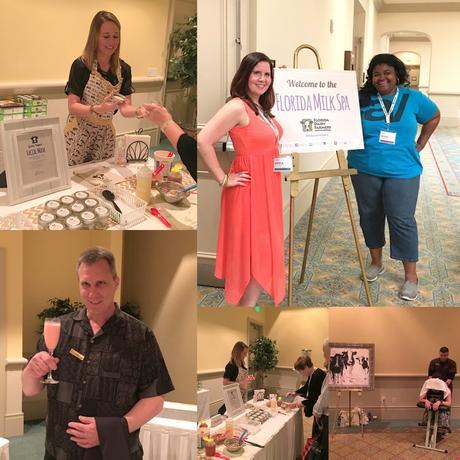 Florida Milk Spa
Following the Milk Spa we were treated to a welcome reception from Florida Strawberry followed by a buffet of tapas and cocktails at "The Taste of Rosen Shingle Creek."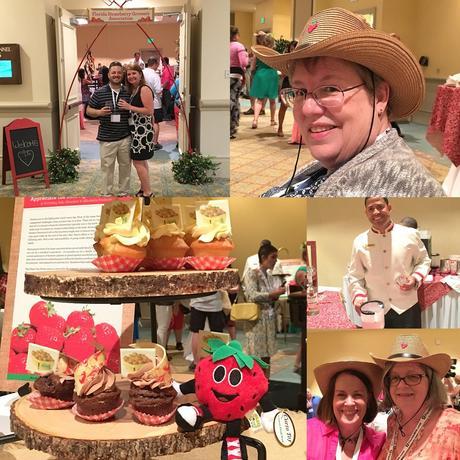 It was a great way to start off the activities for the weekend!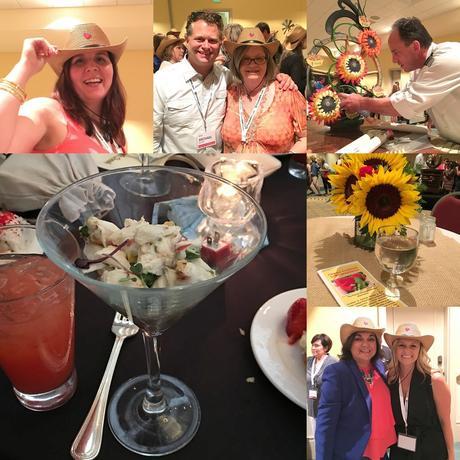 Florida Strawberry Reception and a Taste of Rosen Shingle Creek
Saturday started off bright and early with a breakfast buffet, then everyone gathered in one of the conference rooms to hear Isabel Laessig talk about the Sunday Supper Movement, its growth so far, and the vision for the future. There are many exciting things ahead with SSM!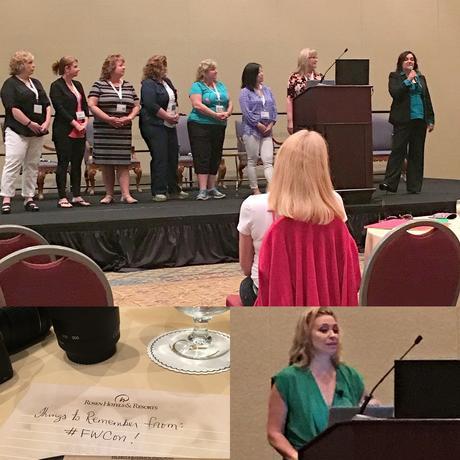 Throughout the day, we heard a presentations from the keynote speaker, Donatella Arpaia who spoke of her long road to success, and the drive and perseverance it took to get her there. She is such an inspiration! We heard presentations from the sponsors, an insightful discussion of how to be professional, along with discussions about promoting  yourself on social media. At breaktime there was also a promotional giveaway for a vehicle from Fields Auto Group for some lucky soul.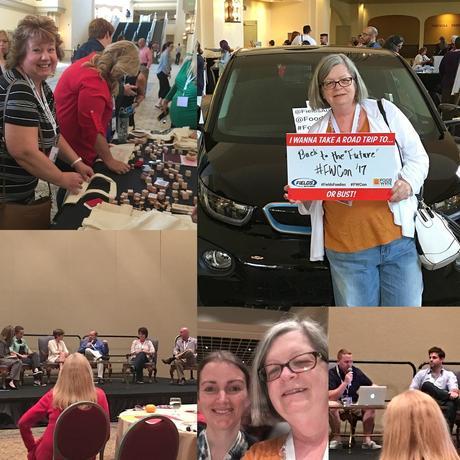 But of course all that built up an appetite, and at break times, Duda Farms was prepared to treat us with a selection of clementines as well as fresh celery with creative dips (mine was sriracha!), Stoneridge Orchards offered a chance to craft some stamped swag bags, Cabot cheese offered a Mac and Cheese bar with tempting toppings and stir-ins.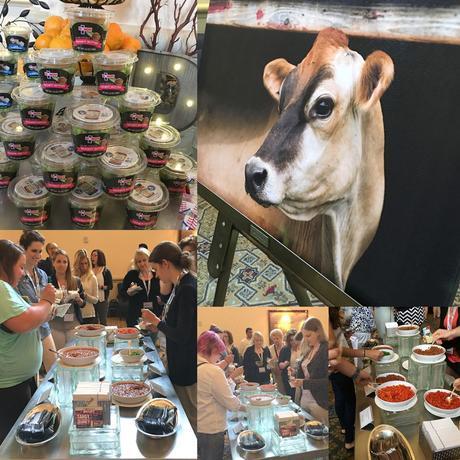 Lunch (which  was hosted by Idaho Potatoes) was fabulous and represented a selection of international foods with potatoes in them. I'd say it was all too much! But no, being food-loving bloggers, the hungry group was always ready for a nibble.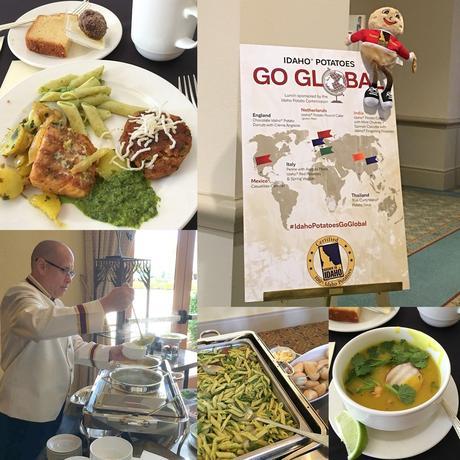 Following the day's activities we recessed for a short break before decking out in Denim and Diamonds for the FWCon Awards Banquet, which was sponsored by Certified Angus Beef and CKMondavi Wines. I knew we were in for a treat with the now-infamous "Dessert Saboteur" (AKA Michael Ollier, executive chef for Certified Angus Beef) at the helm of the kitchen for the banquet.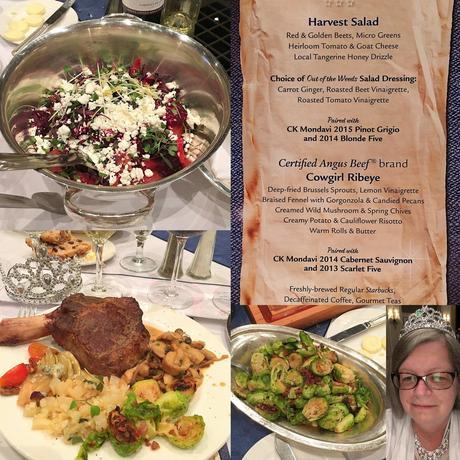 Go on, I dare you to have room for sweets after eating his dinner! It is sabotage of the best kind! Just push those yummy sweets away and better luck next time!
We barely had room for the exquisite CK Mondavi wine pairings, and thought we would be finished, but…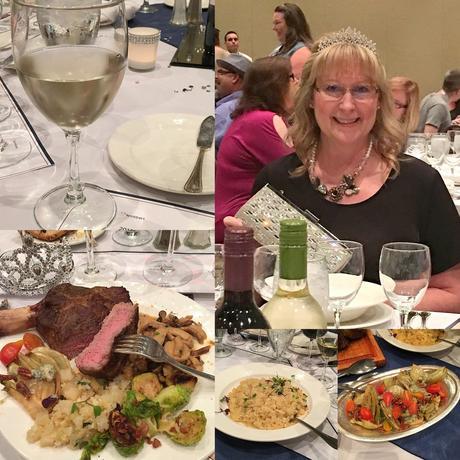 At the after party for the evening, Duda Farms convinced many to indulge with celery based cocktails and extravagant small plates of sweets. It was a night to remember!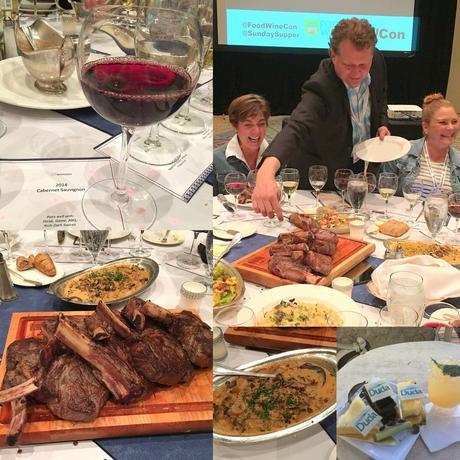 Sunday morning dawned bright and early and it was off to a brunch buffet outside in the rose garden where Duda Farms has numerous delights awaiting. After breakfast, we were transported in style by the Fields Auto Group in luxury vehicles (I went there in a Bentley and returned in a BMW) to the Rosen College of Hospitality where we saw a presentation from Cabot Cheese as well as displays from Tupperware and Happylicious by Betsy.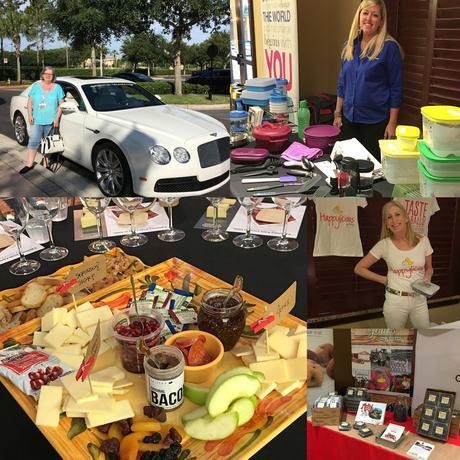 Then it was time for the fun event all the bloggers were waiting for: to go head to head against teams of players in a Hashed Cooking Competition where beef had to be paired with several other ingredients, conceptualized, prepped by the  team, prepared by a chosen cook all in thirty minutes with one terrible surprise: there were not enough stoves to go around! I think my team (with Ellen Folkman) did very well, but there was stiff competition so we eventually fell by the  wayside.
Meet our team!
I have a bit of video where  the judges try our dish- not a complete video of the whole competition, but the parts most important to me and my teammates.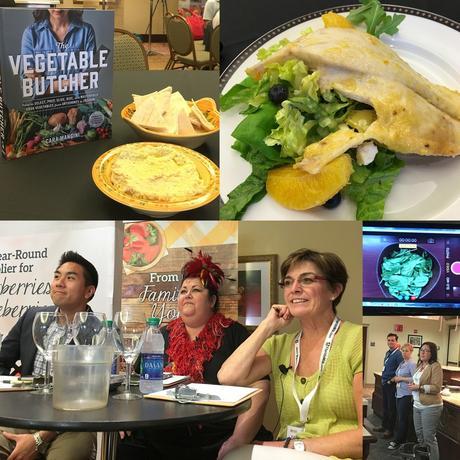 It really was a hectic morning and we went into  the afternoon slightly late. I'd been trying all morning to get a short video interview with my sponsor at Oceanus (oh⋅she⋅ann⋅us) Seafoods. They were putting up the beautiful Florida Pompano for our lunch that day, to be served with the winning salad from the Wish Farms blueberry recipe competition. Oceanus' pompano are the most beautiful I have seen! The eyes so clear and bright. I learned that chlorine in the water can cause cloudiness, and Oceanus takes special care with their seafood, also insuring that it is sustainable from start to finish. While they are still in the developing stages, serving only the restaurant industry, they hope to expand to be able to provide seafood to markets at the retain level so we can all enjoy their catch!
I am so glad things settled for a few minutes and I got the video, so do watch and enjoy!
And thank you to Oceanus for being such a delightful sponsor! The fish at lunch was divine as I am sure everyone can attest!
The afternoon  continued for me with presentations on earning a living from your digital brand with Lorraine Ladish, and On-Air Podcasting with Beef Checkoff (there were several presentations going on at once).
Then finally, we gathered to hear a presentation on food styling by Denise Vivaldo and Kita Roberts. And ended with closing remarks from Isabel. Then we were off to the hotel again to gather  our force for Sunday Supper live from the Tapa Toro restaurant, where we enjoyed a fabulous tapas and paella meal, And of course, our favorite thing: CHAT!
Over so soon it is all just a memory now, but I can relax knowing Isabel is planning a wonderful con for next year! I hope to meet you there!
~Sue