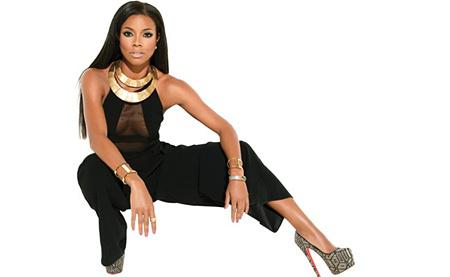 Beyond looking her best on the cover and inner pages of Ocean Drive, Gabrielle Union details her life, struggles with acting, and trials with public perception when it comes to NBA athlete Dwayne Wade in the February issue.
Before we get to the latter, Union honored Jenifer Lewis in her interview, calling Lewis a "mentor".
"Early in my career, my mentor was Jenifer Lewis," Union tells Ocean Drive, claiming Lewis (Jackie's Back, The Princess and The Frog, Dirty Laundry, Preacher's Wife, Fresh Prince of Bel Air….) was "always there for advice, for tears, for laughter."
As for acting, Union admits to have been lucky following roles in "Deliver From Eva" and as of late "Tyler Perry's Good Deeds".
"I've been lucky: For the past year, I haven't really auditioned for anything; the parts I got were straight-up offers. But I'm not so grand that I wouldn't audition. In fact, I wish I could audition more. There are a lot of people who won't give me a chance because I was in Bring It On a thousand years ago. They don't think I can be more than the sassy sidekick. I guess they didn't see Cadillac Records or Neo Ned," the highly rated 2005 indie film in which Union played an asylum inmate claiming to be Adolf Hitler reincarnated. "I try not to play the coulda, woulda, shoulda game. But there are so many great shows I wish I could be part of. I would love to be a black person in Middle Earth! If we can have hobbits, then there can be black hobbits, too, right? If the craziest part of our imaginations can come up with Gollum and hobbits and quests for rings, there should be somebody there who looks like me."
She credits her tight group of actress friends for support too…
These days, she has a "tight collective" of actress friends, including Sanaa Lathan, Regina Hall, Regina King, Tichina Arnold, Atkins, and Lee. "It's funny because we're all up for the same roles, crying over the same spilt milk. We have this joke: 'If I don't get this role, I hope you do, because I need a loan!'"
As for Dwayne Wade and the unexpected Essence cover, confirming and detailing their relationship, Union says they never do photoshoots together for a specific reason…
"We hadn't done [photo shoots] together because it means somebody gets overshadowed, and we're both very proud of what we've accomplished."
For more on Union, pick up the latest issue of Ocean Drive or visit the official website for excerpts from the interview.
Union's next film, Good Deeds, opens February 24.