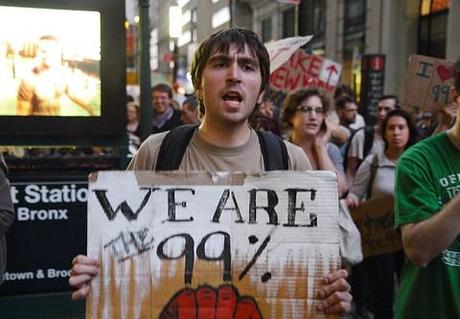 An OWS protestor. Photocredit Paul S http://www.flickr.com/photos/kapkap/6189131120/sizes/m/in/photostream/
Up to 300 people were arrested during Thursday's Occupy Wall Street Day of Action protest after thousands of protesters, their numbers swelled by union members, marched through the financial district.
The march, taking place two days after protesters were evicted from their camp in Zucotti Park, was intended to mark the two-month anniversary of the anti-capitalist protest movement. Estimates of how many protestors there actually were vary (from 700 to 2,000) but about 1,000 people tried to sit down at the New York Stock Exchange, chanting "All day, all week, shut down Wall Street." The stock market was not actually disturbed at all. Whilst the protests were mostly peaceful, police in riot gear attempted to control the crowds, reported Associated Press. Five were arrested for assaulting police officers, and one man was arrested on a charge of making a terrorist threat, after he threatened to attack a shop with a Molotov cocktail. Commentators are reacting, mostly, by saying that the protests are becoming a bit annoying, but the issues they raise are still valid.
Is it just some guy on a bench?  Whilst Europeans think that the protests in New York are "enormous", said Tim Stanley in a thoughtful blog on The Daily Telegraph, the march was actually a "fifteen minute stroll." Gay pride rallies have been longer. Whilst in Oakland, California, the protests have involved real grievances about budget cuts, in New York the mood is "a mix of adolescent idealism and vanity." Whilst some guy stands on a bench aimlessly ranting, loads of "desperately sad homeless people" get mistaken for protestors – but actually, they're "doing what they always do." The last thing he heard before he left was two activists chatting: "Dude, I've heard you on the radio a lot lately." "Yeah, I'm getting around." "Dude, you could, like, make a career out of this."
But does that guy have a point? That is annoying, agreed Sonia Poulton in The Daily Mail, but she still (in The Daily Mail!) said that she agreed with the protestors. Though many of them are frankly quite silly, and their chants are "robotic", at least their presence reminds us that change is needed. Many are "seething" over fuel and energy costs, the price of food, and huge rental and mortgage payments, whilst companies that charge us continue to make massive profits. The government is still putting business issues first, and banks aren't making up their promise to lend to small businesses. The protests may be shut down, but poverty won't go away.
Points that won't go away. And they have achieved some things. Business Week ran up a list of the movements losses and gains. They've managed to stop banks charging for debit card use and they've changed the national conversation, with much more attention now drawn to income inequality. And they've got the banks' attention, with many calling OWS a "risk factor." But public support is waning, what with the "seediness" of the camps and the "potential for violence." Ultimately, the public probably don't want to see clashes on the street – but the issues the protestors have raised won't fade.
Is there a solution? The problem is that there haven't been any answers – the banking system is "barely chastened." Perhaps the answer lies in Lawrence Lessig's book, Republic, Lost: How Money Corrupts Congress – and a Plan to Stop It, which lays out solutions, said Alesh Houdek on The Atlantic. Lessig is a professor at Harvard Law School, and argues that it's not individuals that are corrupt, but the system. His solutions include limiting the amount that candidates can raise when standing for congress and reforming the way that laws are passed. His book could soon become a manual for the movement.
Perhaps – but morality needs to be addressed too. A bishop's thrown his hat into the ring: Mark Sisk, the Episcopalian bishop of New York, has called the disparity between rich and poor "deeply dangerous", adding that capitalism was not moral.
And there continue to be gray areas. "Even people who hate banks," said Nathaniel Popper in the Los Angeles Times, "need a bank." He pointed out that whilst being furious with most banks, the Occupy Wall Street movement has managed to deposit $326,000 in Amalgamated Bank, which is owned by the Workers United labor union. The bank isn't whiter than snow – it made investments in subprime mortgages, and is part-owned (to the tune of 40 per cent) by "some of the same private equity titans" that the protests are against. The tensions between ideals and the world have definitely come to light – the movement even tried to trademark its name.