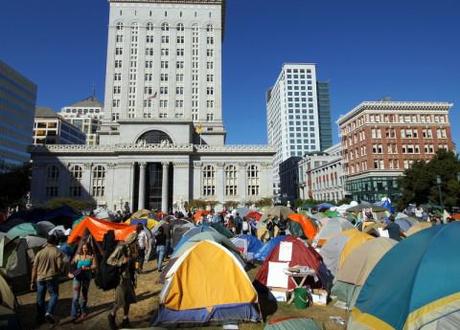 Occupy Oakland on November 2, in front of city hall. Photo credit: [email protected], http://www.flickr.com/photos/[email protected]/6316145786/in/photostream/
Police in Oakland, Calif. may have successfully ousted Occupy protesters from their weeks-old camp at the downtown Frank Ogawa Plaza in a peaceful raid early on Monday morning, but demonstrators are already moving in to nearby Snow Park, the San Jose Mercury News reported. The only question now is, will they stay?
The 5 am raid, which saw police from Oakland joined by seven other law enforcement agencies, was a marked contrast to the fractious October 25 attempted eviction, in which 100 people were arrested and several hurt, including an Iraq war veteran, after police used tear gas and non-lethal projectiles. This time, police gave notice to the protesters camping in front of city hall well in advance and, once there, carefully dismantled tents and made 32 peaceful arrests. Unsurprisingly, the Occupy Oakland blog had a somewhat different account than media reports, noting that some of those arrested were meditating and adding, "All tents and camp facilities that were not removed by occupiers before the raid have been smashed."
As Occupy Oakland is dismantled, police move on the original, Occupy Wall Street.
Though some media outlets are implying that the protest still has enough gas to keep moving forward indefinitely, others claim that the Occupy Oakland movement is barely limping along. But even if it collapses now, it will have made at least one change: Oakland city leadership has seen several resignations as tensions over how to deal with the protesters mount.
Barely a whimper. After the violent resistance of the first eviction from Frank Ogawa Plaza, this second eviction had more than a whiff of defeat about it,TIME magazine's Jason Motlagh reported from the scene. "By the time riot police started to surround the plaza, the camp was mostly devoid of people. A few stubborn holdouts chanted 'Pigs go home' and officials say more than 30 people were arrested, but most stood by on the sidewalk or out of sight, too tired or scared to resist," he wrote.
Protest turns sour, police move to evict. The heady, change the world vibe of the first few weeks of the protest had been steadily shifting to something darker and more desperate, Motlagh wrote. The camp had begun to attract drug users – pot was par for the course, but harder drugs, such as crack cocaine and crystal meth, were finding their way in – as well as the city's homeless and mentally ill; robberies and crime became more frequent and local business owners were putting significant pressure on the city authorities to do something about it. Finally, last Thursday, a man was shot and killed near the Occupy camp – unrelated, it appears, to the protest, but troubling all the same.
Will they carry on? Protesters have reportedly moved to nearby Snow Park, where around 40 tents and a makeshift kitchen area were established just hours after the plaza eviction, The San Jose Mercury News reported, and a movement to occupy several abandoned buildings in downtown is already taking shape. The Occupy Oakland blog said that those assembled for a meeting after the eviction raid were planning future marches and that the mood was "upbeat".
City administration reeling: Legal advisor quits in opposition to raid. Oakland Mayor Jean Quan hasn't had an easy time with this protest, facing criticism for her handling of the demonstrators. Now, her legal advisor and longtime friend Dan Siegel has resigned, in opposition to the city's decision to evict the protesters (again), while Deputy Mayor Sharon Cornu left just hours later, claiming that she wasn't "meshing" with Quan. Three other officials have also left the Quan camp – meaning that there are some job positions opening up. Lauri Apple atGawker invited "unemployed Okies with underutilized graduate degrees" to "Send in your resume today! Or pile your family into the jalopy, make enough flour-and-bacon-fat sandwiches for the road, and show up at City Hall with your application in hand. Make the transition from Okie to Oakie!"
We need Occupy. As Occupy movements across the US and the world continue to come under fire and face eviction with varying degrees of heavy-handedness, Kate Pickett, writing at The Guardian's Occupy-occupied Comment is Free section on Tuesday, declared that the world needs Occupy to force governments to deal with income inequality. Income equality leads to a host of social ills, including violent crime, poor physical and mental health, and diminished child wellbeing. "This is why we need the Occupy movement and the staunch actions of the trade unions – why we need protest and demonstrations and activism. We must continue to demand that politics and policy serve the needs of the many, not the selfish demands of the few – the evidence supports this and so does the democratic opinion of the vast majority of the people."