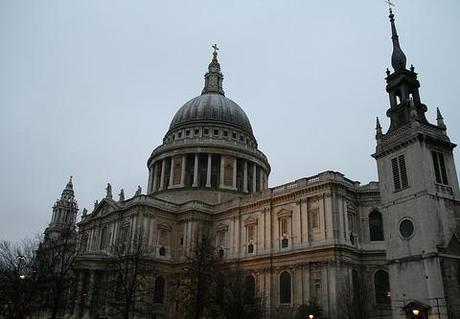 St Paul's Cathedral - Photo credit: Katy Ereira http://flic.kr/p/7vXAgy
At the prospect of "violence in the name of the church", the canon chancellor of St Paul's Cathedral, the Rev Dr Giles Fraser, has resigned, reported The Guardian. Discussions between the cathedral and the City of London Corporation have led to the suggestion that the ongoing battle with the resident Occupy London protestors could soon be resolved by their forcible eviction by the police. Fraser tweeted the news, saying the decision was made with "great regret and sadness." The Occupy London movement declared themselves "deeply moved" by his gesture, and thanked him greatly.
But as St Paul's looks set to continue with its attempts to move on the protestors, and continues to complain of lost revenue it has suffered after it had to close due to "health and safety" issues, commenters are starting to ask where the Church's priorities lie.
What would Jesus do? Symon Hill, writing for The Guardian's Comment is Free, asked if the Church had lost its way. "Let's not forget that Christianity began as a grassroots protest movement", he said. He reminded readers, "the Christian Church does not exist for the purpose of maintaining tourist attractions."
"Where would Jesus be this week? Would he be camping outside in this freezing weather, speaking out against inequality, or inside the religious building, worrying about the revenue from tourists?" questioned Hill.
Divisions in the Church. An editorial in The Independent said that the protests have highlighted the differences of opinion in the Church, and worried that the Church may be too financially focussed: "Is St Paul's, in particular, to close, in a variety of ways, to the City?" it asked.
Common sense prevails. The Bishop of London, Dr Richard Chartres, defended the Church. Writing for The Evening Standard, he said "calls for the camp to disband peacefully have been deliberately interpreted as taking the side of Mammon, which is simply not the case." He offered to lend the Church's support to the cause, promising to organize a St Paul's Institute debate on the real issues, which, he said, have been "all but extinguished."
Deluded Church. This sort of offer, opined Andrew Brown in The Guardian, is indicative of the Church's misconception that they are still the height of influence. "Does anyone really think that the City takes more notice of a bishop than of a genuine popular demonstration?" Fraser's resignation, however, does present a "glint of hope", showing that "Christians can act on principle in a disagreement that has nothing whatever to do with sex. Is it too much to hope this will go on?"
No villains. Fraser said in an interview with The Guardian that his resignation was a "matter of conscience for everyone", and that he resigned peacefully, purely because he supported the right to protest, and could not "support using violence to ask people to clear off the land." He holds no resentment to the Church, and tweeted "It is completely unfair for people to have a go at my colleagues. They have acted out of principle just as much as I."