Daily Mail: With her superstar career, she's far from being a bored housewife.
But in her newly released video, Beyonce plays an oversexed beauty who attempts to seduce her disinterested husband. One of the 17 tracks included on her self-titled visual album, Partition has now been released as a stand-alone video.
It starts with Beyonce clad in a white dressing gown sitting at a breakfast table in a luxurious castle-like mansion.
The camera follows her face as she attempts to catch the eye of her disinterested husband. As he rustles the paper, turning pages oblivious to the beauty opposite, Beyonce slips open her gown to reveal a plunging black and blue corset.
She drops a napkin to the gown as she sips her coffee, but finding herself ignored begins to fantasize.
The camera cuts to the back seat of a luxurious Rolls Royce, where Beyonce and the unseen man cavort on the back seat.
The 33-year-old sings: 'He Monica Lewinskyed all on my gown,' as she rolls around in her underwear and jewels.
Rapid scenes of Beyonce in various states of undress then follow. We see the mother-of-one crawling out of the dark in just a bra and jewelled headdress.
Silhouetted and naked she poses on a couch, her curvy figure on fill display.
We see her twirling on the floor in her lacy underwear, before pole dancing in a thong. In one seductive sequence, a chain pair of underwear cling to her behind as she wriggles, back to the camera. Then in an acrobatic display she leans backward to show her breasts.
Eventually we get a hint as to the identity of her uninterested lover – who suddenly seems as lot more involved.
Through a plume of smoke we see a heavy gold signet ring, before catching a glimpse of Beyonce's real-life husband Jay Z. As she writhes on his lap in her underwear, there is a brief glimpse of the couple's faces.
The video then ends with them back at the breakfast table. As Beyonce takes a sip of her coffee, it is clear Jay Z has put down his paper – and is now regarding her intently.
The singer has explained the story behind Partition, and why she chose to film it at the Crazy Horse nightclub in Paris – where husband Jay took her after he proposed.  'The day that I got engaged was my husband's birthday, and I took him to Crazy Horse and I remember thinking "Damn, these girls are fly."
'I just thought it was the ultimate sexy show. I was like, "I wish I was up there, I wish I could perform that for my man." So that's what I did for the video.'  
Keepin' it classy…I'm sure the Obamas are proud of their girls' role model.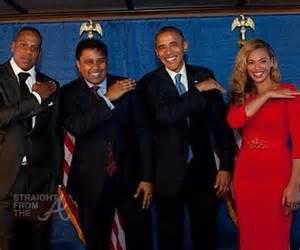 Read more about this "role model" and her husband:
'It's a sad day when our kids can't even watch the Grammys': Beyoncé slammed by parents after VERY risqué performance
Beyoncé criticized for using Challenger disaster audio clip in pop song
Obama supporter JZ did interview next to two women performing oral sex
Beyonce probably failed English…
DCG