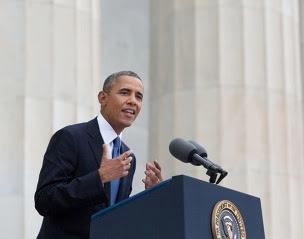 Here is part of the president's speech marking the 50th anniversary of the March on Washington (when Dr. King gave his famous "I Have A Dream" speech). You can read the whole speech here. I think this was one of his better speeches.


Five decades ago today, Americans came to this honored place to lay claim to a promise made at our founding: "We hold these truths to be self-evident, that all men are created equal, that they are endowed by their Creator with certain unalienable rights, that among these are Life, Liberty and the pursuit of Happiness."




In 1963, almost 200 years after those words were set to paper, a full century after a great war was fought and emancipation proclaimed, that promise -- those truths -- remained unmet. And so they came by the thousands from every corner of our country, men and women, young and old, blacks who longed for freedom and whites who could no longer accept freedom for themselves while witnessing the subjugation of others.




Across the land, congregations sent them off with food and with prayer. In the middle of the night, entire blocks of Harlem came out to wish them well. With the few dollars they scrimped from their labor, some bought tickets and boarded buses, even if they couldn't always sit where they wanted to sit. Those with less money hitchhiked or walked. They were seamstresses and steelworkers, students and teachers, maids and Pullman porters. They shared simple meals and bunked together on floors. And then, on a hot summer day, they assembled here, in our nation's capital, under the shadow of the Great Emancipator -- to offer testimony of injustice, to petition their government for redress, and to awaken America's long-slumbering conscience.




We rightly and best remember Dr. King's soaring oratory that day, how he gave mighty voice to the quiet hopes of millions; how he offered a salvation path for oppressed and oppressors alike. His words belong to the ages, possessing a power and prophecy unmatched in our time.




But we would do well to recall that day itself also belonged to those ordinary people whose names never appeared in the history books, never got on TV. Many had gone to segregated schools and sat at segregated lunch counters. They lived in towns where they couldn't vote and cities where their votes didn't matter. They were couples in love who couldn't marry, soldiers who fought for freedom abroad that they found denied to them at home. They had seen loved ones beaten, and children fire-hosed, and they had every reason to lash out in anger, or resign themselves to a bitter fate.




And yet they chose a different path. In the face of hatred, they prayed for their tormentors. In the face of violence, they stood up and sat in, with the moral force of nonviolence. Willingly, they went to jail to protest unjust laws, their cells swelling with the sound of freedom songs. A lifetime of indignities had taught them that no man can take away the dignity and grace that God grants us. They had learned through hard experience what Frederick Douglass once taught -- that freedom is not given, it must be won, through struggle and discipline, persistence and faith.




That was the spirit they brought here that day. That was the spirit young people like John Lewis brought to that day. That was the spirit that they carried with them, like a torch, back to their cities and their neighborhoods. That steady flame of conscience and courage that would sustain them through the campaigns to come -- through boycotts and voter registration drives and smaller marches far from the spotlight; through the loss of four little girls in Birmingham, and the carnage of the Edmund Pettus Bridge, and the agony of Dallas and California and Memphis. Through setbacks and heartbreaks and gnawing doubt, that flame of justice flickered; it never died.




And because they kept marching, America changed. Because they marched, a Civil Rights law was passed. Because they marched, a Voting Rights law was signed. Because they marched, doors of opportunity and education swung open so their daughters and sons could finally imagine a life for themselves beyond washing somebody else's laundry or shining somebody else's shoes. Because they marched, city councils changed and state legislatures changed, and Congress changed, and, yes, eventually, the White House changed.




Because they marched, America became more free and more fair -- not just for African Americans, but for women and Latinos, Asians and Native Americans; for Catholics, Jews, and Muslims; for gays, for Americans with a disability. America changed for you and for me. [A]nd the entire world drew strength from that example, whether the young people who watched from the other side of an Iron Curtain and would eventually tear down that wall, or the young people inside South Africa who would eventually end the scourge of apartheid.




Those are the victories they won, with iron wills and hope in their hearts. That is the transformation that they wrought, with each step of their well-worn shoes. That's the debt that I and millions of Americans owe those maids, those laborers, those porters, those secretaries; folks who could have run a company maybe if they had ever had a chance; those white students who put themselves in harm's way, even though they didn't have to; those Japanese Americans who recalled their own internment; those Jewish Americans who had survived the Holocaust; people who could have given up and given in, but kept on keeping on, knowing that "weeping may endure for a night, but joy cometh in the morning."