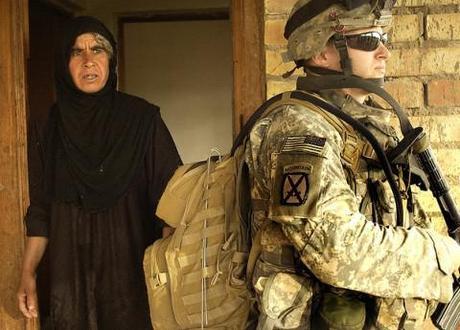 US to withdraw troops from Iraq. Photo credit: The US Army, via Flickr.
The war in Iraq is officially over. Eight years after the US launched Operation Iraqi Freedom, which toppled Saddam Hussein, the remaining troops are on their way home, leaving behind a small force of 200. The US withdrawal is set to be a quiet affair, marked by a flag-lowering ceremony.
US President Barack Obama, who flew to Iraq this week to thank troops for their service, opposed the war, and his pledge to end the conflict formed a central part of his campaign for the presidency in 2008.
Commentators are now scrambling to analyze the US legacy in Iraq. According to the BBC, the conflict claimed the lives of 4,500 US soldiers and 100,000 Iraqis, and cost the US $1 trillion. So was it worth it? And what's next for US-Iraq relations? The commentariat is generally pessimistic on both counts.
A lesson to Arab Spring countries. David Ignatius asserted in The Washington Post that America's greatest error in Iraq wasn't toppling dictator Saddam Hussein, but destroying the country's infrastructure, which has led to a democratic system based on tribal and ethnic loyalty. "The politics of survival became entwined with the politics of democracy, producing a strange hybrid — better than what came before, I guess, but brutal in its own ways," wrote Ignatius. According to Ignatius, the situation in Iraq encapsulates "what can happen when you knock the pegs out from under an authoritarian regime without a strong political culture underneath", and that this may happen in Arab Spring countries.
"We have lost a lot because of the American presence in Iraq. We have lost security and our sons who are still in prison with an unknown future, while the only benefit was that they got rid of Saddam," Iraqi government employee Mohamed Ali Maki told The New York Times.
Not worth the sacrifice. The greatest achievement of the conflict was the creation of a democratic government of sorts in Iraq, said former Assistant Secretary of State PJ Crowley at the BBC. But overall, he argued, the war has cost so many lives and damaged America's to such an extent that ultimately it probably wasn't worth it. Indeed, Crowley said that the "clear winner" of the war in Iraq was Iran, and that this is borne out by recent events: "The Iraqi prime minister's reluctance to intervene in Syria demonstrates that the fragile Maliki government is going to pick its battles with neighbours carefully, leaving room for Iranian mischief at US expense."
"Iraq is not a perfect place but we are leaving a sovereign, stable and self-reliant country with a representative government elected by its people," President Obama told troops in Iraq ahead of the US withdrawal, reported The Telegraph.
Iran on top. A Guardian editorial agreed that Iran has benefited from the Iraq conflict: "The future partners of an independent Iraq are Iran and Turkey. The US comes a distant third." The editorial suggested that the war was a "grand folly", and that the well-choreographed US withdrawal masks the fact that the country has lost considerable influence in the region.
US squandering opportunity. "U.S. interests in consolidating an alliance with Iraq have never been greater," according to The Wall Street Journal, in order to prevent Iraq forming even closer links with Iran and to strengthen US influence in the Middle East now Egypt is looking unstable. But the WSJ argued that the Obama administration is doing little to achieve this, even though the official end of the war is an excellent opportunity to forge closer relations: "What a pity, then, that this Administration is treating our near-total withdrawal from Iraq mainly as an opportunity to show the political left that it has ended George Bush's war."
"Security may be much better than six years ago but bombings still occur daily, and that makes me worried all the time, about myself, my son and my parents," Baghdad-based journalist Aseel Kami told Reuters.
Haditha massacre returns to haunt US. And relations between Iraq and the US are certainly not going to be helped by the discovery of a cache of documents relating to the massacre of Iraqi civilians by US troops in Haditha in 2005. A New York Times reporter discovered the top secret interviews with Marines abandoned at a junkyard near Baghdad. Michael S. Schmidt wrote for the NYT that Haditha was "a defining moment of the war, helping cement an enduring Iraqi distrust of the United States and a resentment that not one Marine has been convicted".
"Unfortunately, it is clear that this decision of a complete pullout of United States troops from Iraq was dictated by politics, and not our national security interests," said Republican Senator and one-time presidential hopeful John McCain, reported Time.
It's all about re-election. "[Obama] is not just commander in chief intent on lauding the valor of the military. He is a president seeking re-election and soaking up every chance to mark a promise kept," said CBS News/AP, pointing out that Obama needs to get Iraq back into the public consciousness in order to provide some positive news during a time of joblessness and financial crisis.