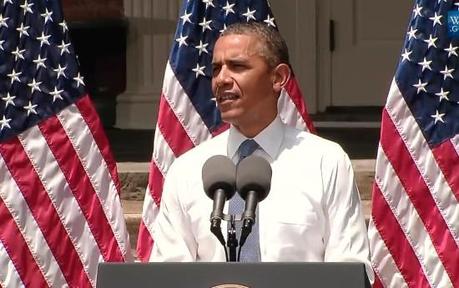 Yesterday, President Barack Obama announced the White House's new Climate Action Plan to curb carbon and other pollutants in the air. During a speech announcing the plan, he called for more solar and wind power projects to help curb the country's appetite for fossil fuel and reduce the U.S.'s carbon pollution to 17 percent below 2005 levels. At the same time, he renewed calls to increase the amount of renewable energy installed in the U.S. and set forth new renewable energy goals for the federal government.
Western states burning in the parched summer, midwest towns torn asunder by increasingly strong tornadoes and the gulf and east coasts facing ever stronger, more frequent hurricanes are all signs of climate change that threaten the U.S. "This is a challenge that does not pause for bipartisan grid lock. It demands our attention now," Obama said during the speech.
Obama laid out a clean energy and technology-based plan to address the issues. "A plan to cut carbon pollution, a plan to protect our country form the impacts of climate change, and a plan to lead the world in a coordinated assault on a changing climate," he said.
Among the issues Obama discussed was reducing carbon from fossil fuel-based power plants. "Power plants can still dump unlimited amounts of carbon pollution into our air for free. That's not right, that's not safe. And it needs to stop."
He continued, "For the sake of our children and the health and safety of all Americans, I'm directing the Environmental Protection Agency to put an end to the limitless dumping of carbon pollution from our power plants and complete new pollution standards for both new and existing power plants."
Obama also called on the U.S. to lead the clean energy race. "Countries like China and Germany are going all in—in the race for clean energy. I believe Americans build things better than anybody else," he said. "I want America to win that race. But we can't win it if we're not in it."
Obama called on the U.S. to double the amount of wind and solar throughout the nation. He also pointed out the federal government is taking action to reduce its energy use and utilize more renewables. Among those efforts, the Department of Defense (DOD) already plans to install 3 gigawatts of renewable energy on its bases. And, federal agencies have reduced their greenhouse gas emissions by more than 15 percent since Obama took office. "But we can do even better than that. So today I'm setting a new goal. Your federal government will consume 20 percent of its energy from renewable sources within within the next seven years," Obama said. In addition, he called for installing 100 megawatts of renewables at federally-assisted housing sites by 2020.
Meanwhile, he said the country needs to adjust its incentives for all energy companies. "Billions of tax dollars continue to still subsidize some of the most profitable corporations in the history of the world. My budget calls once again for Congress to end the tax breaks for big oil companies and invest in clean energy companies that will fuel our future."
The calls to action drew praise from the renewables industries. "This is a watershed moment in our nation's history," said Rhone Resch, president and CEO of the Solar Energy Industries Association (SEIA). "We can't wish this problem away, and pointing fingers won't solve it either." He added, "President Obama understands that. We commend him for offering a bold, decisive plan to combat climate change and to mitigate the impacts of carbon pollution. But this isn't just the President's legacy at stake—it's also ours. Let's not be remembered as the generation of Americans that could have made a difference, but didn't."
Resch called solar a unique opportunity that's helping meet the challenge. "There is now more than 8,500 megawatts (MW) of cumulative solar electric capacity installed in the U.S.—enough to power more than 1.3 million American homes. What's more, in the first quarter of 2013, more than 48 percent all new electricity added to the grid was solar," he said. "This is our moment in time. America's solar energy industry stands ready to do our part to help fight climate change and usher in a new era of clean energy in America and around the world. Despite what some critics say, this isn't a choice between clean energy and a robust economy. We can have both, and solar is showing how to make that possible."
Similarly, American Wind Energy Association CEO Tom Kiernan said his industry was up to the challenge: "The wind energy industry welcomes the President's focus on climate action," Kiernan said. "AWEA supports climate policies to achieve science-based greenhouse gas targets."
"Energy efficiency standards will save money as well as energy. Utilizing public lands for their solar and wind resources follows in the footsteps of mineral resources and forestry products and should be pursued in the interest of national prosperity. New regulations on emissions will accelerate the replacement of outmoded power plants with high efficiency and low emitting technologies," said Advanced Energy Economy (AEE) CEO Graham Richard.
This article was originally posted on SolarReviews by Chris Meehan.