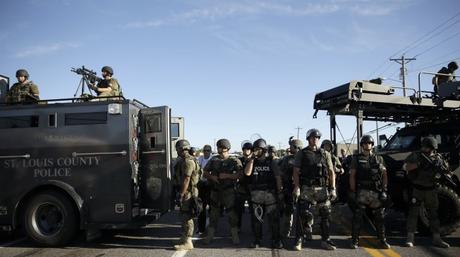 Guns dot com
Following a year of high-profile riots and demonstrations, the White House on Monday moved forward with implementing a ban on transferring some weapons and military equipment to law enforcement.
The Task Force on 21st Century Policing, a now permanent separate federal inter-agency working group set up by executive order of President Barack Obama in January, has released its final report, which the president has ordered placed into effect through the Departments of Justice, Defense and Homeland Security.
Among the list of items now prohibited from being transferred either from surplus military stocks via the DOD's 1033 Program or bought through DHS grants are tracked armored vehicles, weaponized aircraft, vessels or vehicles of any kind; firearms or ammunition of .50 caliber or higher, grenade launchers, bayonets and camouflage uniforms.
"The Working Group concluded that a prohibition on acquisition of such equipment by LEAs [law enforcement agencies] from Federal programs is appropriate because the substantial risk of misusing or overusing these items, which are seen as militaristic in nature, could significantly undermine community trust and may encourage tactics and behaviors that are inconsistent with the premise of civilian law enforcement," reads the report. "These concerns outweigh the Federal Government's interest in providing this equipment to address law enforcement needs (that could not otherwise be fulfilled).
"In addition to prohibiting the future transfer of the now-restricted weapons and equipment, the administration is also seeking to recover those that are already in the hands of police agencies nationwide.