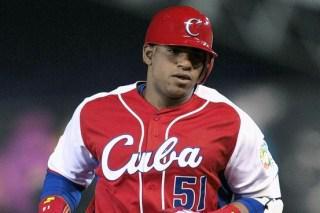 Photo: hardballtalk.nbcsports.com
- Adam Parker
Following a series of unpopular moves during what has become one of the A's busiest offseasons in recent memory, Oakland made a move that most likely ends all of their moves on a positive note - signing Cuban sensation Yoenis Cespedes to a four-year, $36 million deal.
Cespedes put pen to paper on Monday after receiving his unblocking license from the U.S. Treasury Department's Office of Foreign Assets Control, his agent, Adam Katz said to reporters.
The outfielder needed the clearance because he is a Cuban national who has established residence in another country after defecting.
This is one of the more surprising moves in this crazy offseason around Major League Baseball. Oakland who is believed to have outbid the Miami Marlins, who had been considered the favorite to land Cespedes amid a grueling bidding war that also included the Detroit Tigers, Cleveland Indians, Baltimore Orioles and both the Chicago Cubs and White Sox.
So how did the A's virtually come out of nowhere to land the 26-year-old power-hitting Cuban center fielder?
According to Cespedes, the reputation of A's general manager Billy Beane and the direction of the franchise were among the reasons he chose Oakland as his first MLB home.
"It was a great process, training and working out for teams,"
Cespedes said.
"It was a difficult decision to leave Cuba, but I'm really excited with how things worked out. I saw a bunch of teams and they saw me, too, but Oakland was the best for me."
It probably also doesn't hurt that one of Cespedes' favorite players to watch while growing up in Cuba was former Oakland shortstop Miguel Tejada.
"I am super happy because it's been a dream of mine for a long time,"
Cespedes told MLB.com from the Dominican Republic.
"To leave my country and play in the big leagues is what the goal was. My family is really happy, too. They are living their dreams through me."
"At the end of the day with all these big free agents, it comes down to the total package,"
Katz said.
"Sure, money and the economic package had something to do with it. But it's also about all the surrounding circumstances. And basically, this was a player who felt like this club wanted him more than anybody else."
By snagging the right-handed Cespedes, thought to be a five-tool player, Oakland has hit the jackpot by landing a power-hitting center fielder who will perfectly slot into the heart of what was previously a lackluster lineup.
He can play all outfield positions, but is best suited for center, meaning Coco Crisp, now the team's second-highest paid player behind Cespedes, could potentially settle at one of the corners or even be traded.
Once Cespedes receives his worker's visa he is free to show up to spring training and play for the A's. The contract allows him to become a free agent after the fourth year instead of having to wait six.
"My first goal is to make the team and stay healthy all season, and little by little, I'll make more goals,"
Cespedes said.
"I've been preparing every day for this and I 100 percent believe that I am ready for the major leagues. I have a lot of international experience and experience at a high level. I'm very confident in my abilities."
"Believe me, I'm going to give the best I have, and I'm going to leave it all on the field. I'll do my best and show I deserve this opportunity. I know I can do it. I'm ready."
It sounds like Cespedes is ready to take the MLB by storm, and he certainly has all the tools necessary to do it.
Congrats on fulfilling your lifelong dream, Yoenis. We here at Beard and Stache wish you the best with your professional baseball career.
Be sure to follow Beard And Stache on Twitter 
@BeardAndStache
, 
and also Adam 
@Adam_Parker43
, Like our Facebook page 
HERE
!