I've got a handful of "SAFE" blushes that aren't too good on deeper skintones.  I also noted that I needed more vibrant finely milled matte blush  for more editorial looks that require an instant pop of color on the cheeks.  I purchased this for about Php600+  from the lovely Multiply store Digital Traincase (an excellent local source for U.S. drugstore cosmetics) and they shipped this to my mother's corporate office in Makati within three working days.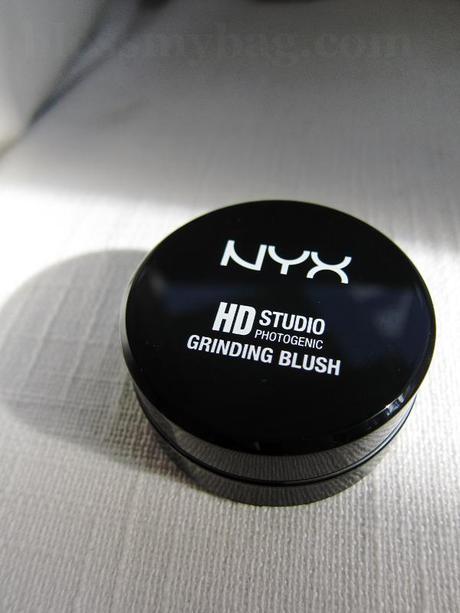 I first saw NYX HD Grinding Blush on Jen Frmheadtotoe's YouTube feature of it.  It looked really interesting and I promised myself I'd be more daring with color this time. Sangria in Madrid is a deep, slightly cool coral shade.  The other colors in the range are Georgia Peach, Apricot, English Rose, American Girl, Terracotta, Nutmeg, and Menage A Trois.  The formula is high definition, mineral-enriched, talc-free, and paraben-free.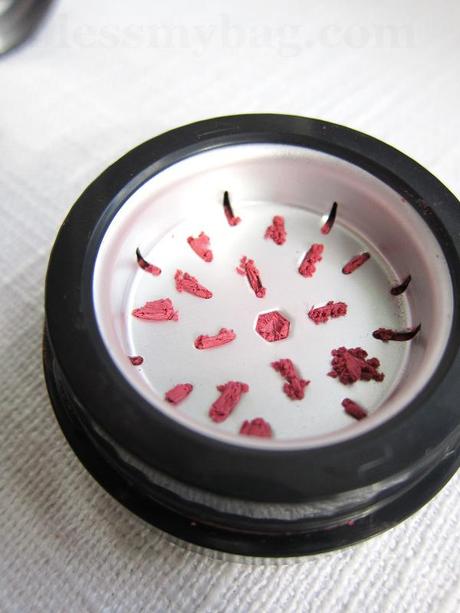 The side of the box reads "Good for all skin types.  Softens lines.  Light diffusing effect is perfect coverage for studio photos or taking fun pics with pals!".  It's called a "Grinding Blush" because it comes in a fairly new sort of packaged dispenser that houses compressed/solid mineral blush and shaves the amount you need when you simply twist the bottom.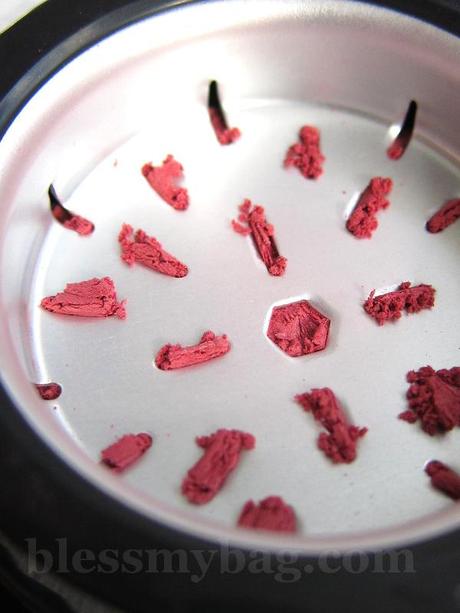 Read more to see more photos, swatches, and this lovely product's application

.
The lid functions as a mirror, though I personally wish this was a fliptop container, I have a pet peeve for lids that open separately thinking they could one day be lost by accident.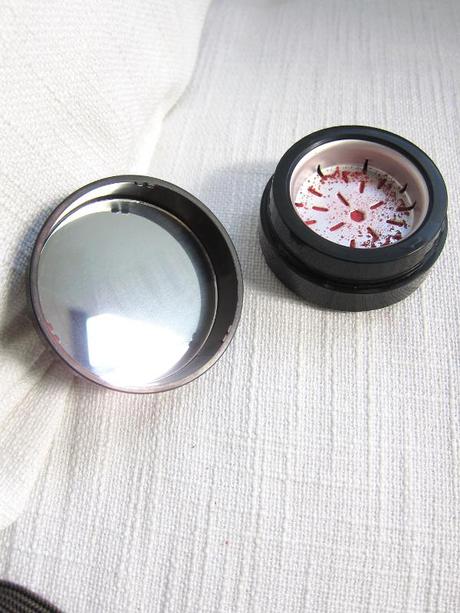 Here is some of the product sprinkled then swatched on my arm.  The consistency is soft, fluffy, finely milled powder once shaved and it packs a punch of color.  Sangria in Madrid is quite like a terracotta berry shade.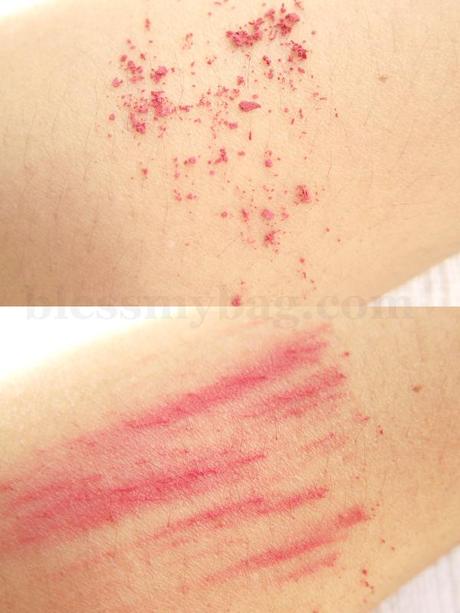 The color tone at least looks so "natural" because I look like I scratched myself…it almost looks like a normal abrasion.  The importance of blushes this vibrant lies in the effect of photography which tends to wash out the appearance of any subtle blush one might be wearing.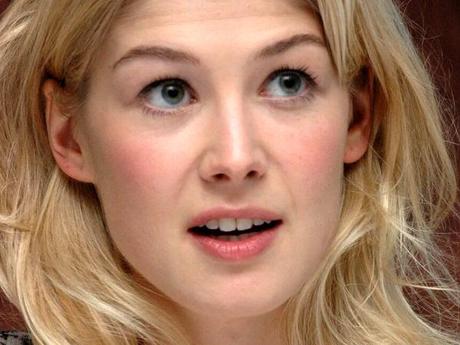 For example, in this lovely photo of Rosamund Pike (starred in Pride & Prejudice, An Education) you can see her blusher (if she is wearing any, it'd be lovely too if she was naturally flushed) would be quite obvious but still flattering and quite natural, in person it would have looked a bit more vibrant.  Classic Russian Blush meaning blush that's applied more precisely and spot-on upon the apple of the cheek rather than high up near the hairline is back.  Here's a gorgeous shot of Game of Thrones/300′s Lena Headey with a warmer blush applied.  You can still blend the blush slightly outward but not too high during this season or it'll look old.  In the end it all depends on your facial structure.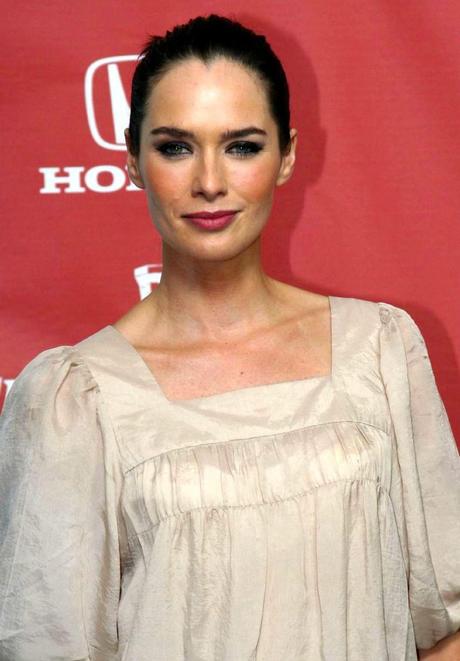 Using my Ecotools Retractable Travel brush I pick up some product, but I also tap pat the brush once on my arm to push in the powder particles and remove the excess, otherwise I'll get a smear of color.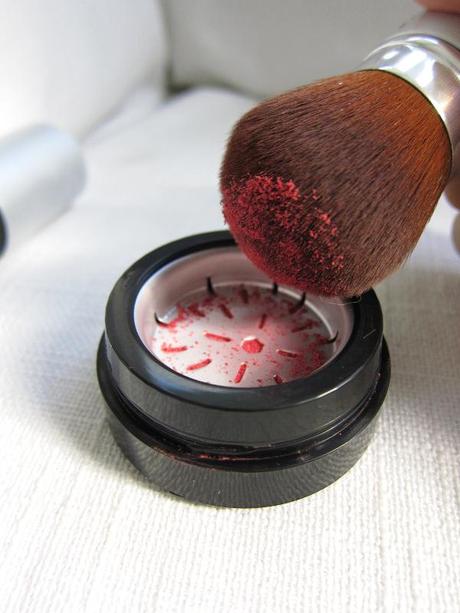 The blush blends beautifully over the cheeks, make sure your face is set with either powder foundation or setting powder before applying this.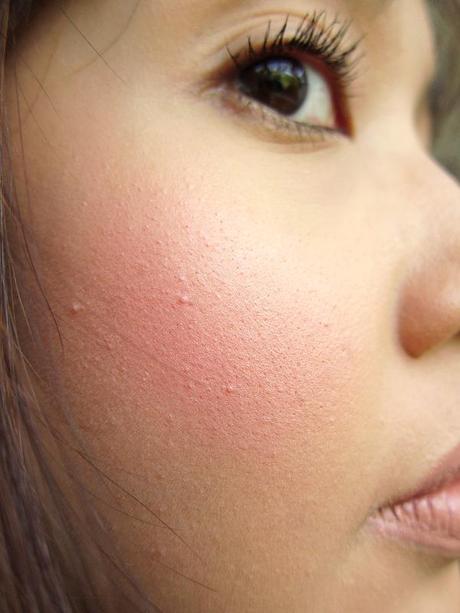 Just to note, I'm not wearing highlighter here, the foundation has a pleasing not overly dewy finish.  I'm wearing my L'oreal True Match Foundation set with powder and Make Up For Ever Rouge Artist lipstick #23.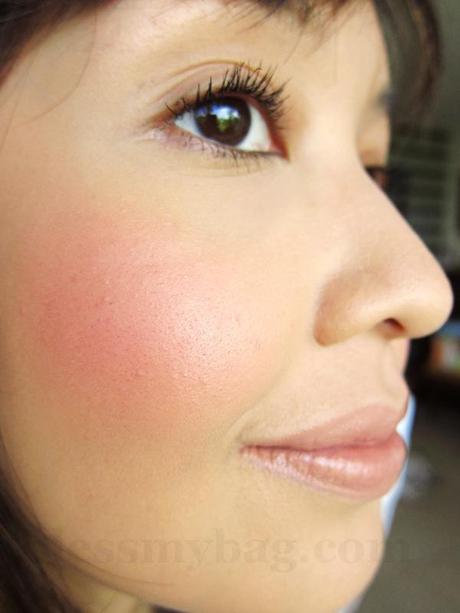 Remember, powder to powder, cream to cream, suggested rules of blending.  If you try and dust powder blush directly over your unset foundation base it'll get a bit patchy.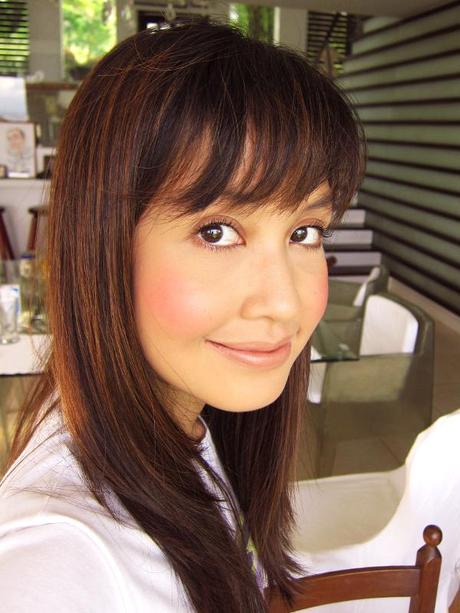 This blush may look slightly unnatural during the day for someone fair like me, slightly too strong, and more natural on someone darker, but if you like it this way, why not?  It reminds me of the blushing cheeks of Coca Cola's happy Santa Claus.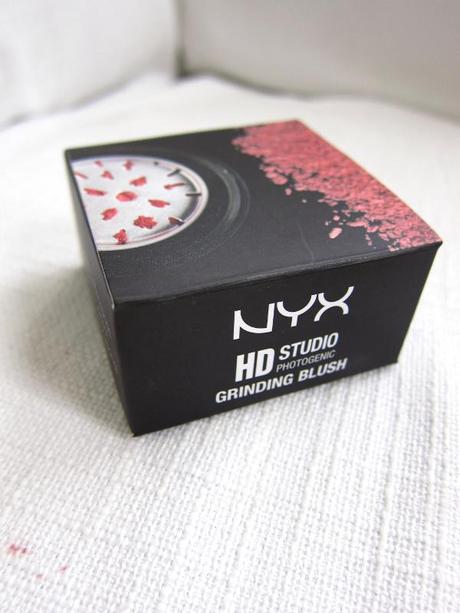 The only thing I don't like about this is you have to be careful in applying it and tightly closing the container, especially if you're wearing white for example.  It's best to lean forward in applying because this is loose, strongly colored pigment.  Otherwise I think it's absolutely pretty and interesting to use.  To others this might not be the most convenient blush around, but  if you love the color enough you may or may not be willing to overlook that.