Yes sir, the one and only New York Times has a very prominent, front sports page article on our own Kansas City Chiefs, our Patrick Mahomes and how we naturally, rightly like--love?--him.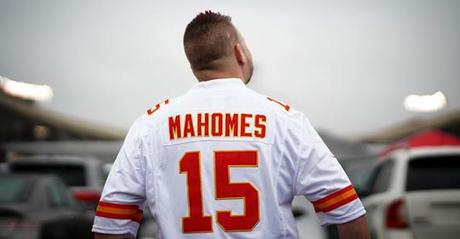 Fans of the Kansas City Chiefs, accustomed to football disappointment, now have the most exciting player in the N.F.L. on their team, in their town.
And it's a great and of course, true article, we love our Patrick Mahomes and all this winning he's doing but in the print edition of the paper, the headline reads: "Kansas City finally found something to love."
Excuse me?
Excuse me, New York Times.....  Excuse us??
We have LOTS to love around here, make no mistake.
We love our Kansas City Chiefs, for starters. And that's all the time, not just when we're having a stellar season, like right this moment. Sure, we prefer winning them all, including the Super Bowl, like anyone and everyone else but we love our team ALL THE TIME.
Going on, we love our Kansas City Royals. For sure. Absolutely. And that's all the time, too. Sure, we prefer "going all the way" seasons like 1985 and 2015 but we love our team, let there be no doubt.
Going on from there, things we Kansas Citians love:
Our barbecue The
All our fountains Being the "Paris of the Plains" Ward Parkway and our boulevard system 4 seasons--especially now that winters are milder Mostly clean air, nearly all the time Low traffic Having and being two cities, not just one
Nerman Museum of Contemporary Art
Arthur Bryant's Barbeque Restaurant
And a lot more, to be sure.
So thanks, New York Times for the article and coverage but please, ladies and gentlemen, give us more credit than this.
Please.