I've heard many people recommend this bronzer in the blogging world and in monthly favorite videos on YouTube so I thought it was about time I get one because I wanted to try it for myself.
I don't know where to buy NYC products here, or even if they're sold here so I took iPhone to hand and searched eBay, which seemed to be the most logical thing to do. 
This is the second product I was sent, the first one had expired or there was something wrong with it so I contacted the Seller and she sent me another brand new one, this is the replacement.
Here's the old one on the left and the new one on the right. See what I mean.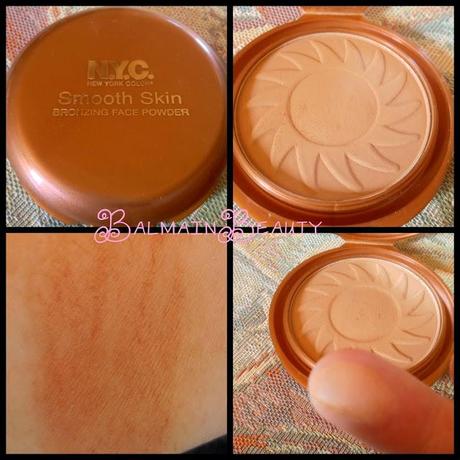 What I like about this bronzer is the Sun shape within in the powder but what surprised me most about Sunny is she's much lighter than I anticipated a bronzer to be, which is good news. I don't think I'm going to over-bronze, which is something I tend to do quite a bit without meaning to.
Another thing I like is she's buttery to the touch, not shimmery, glittery and nicely pigmented on my finger. My photos do not do this product justice. 
If you can get your hand's on this product you should give it a try because it's inexpensive and it's for us girl's who like a little bronzer, yet it's buildable if you want it to be more noticeable.
Do you have NYC Sunny Bronzer and what do you think of it?