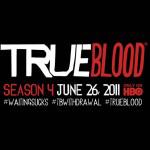 Well Truebies we are just a couple of hours away from the Season 4 premiere of HBO's True Blood!  While Alan Ball has kept a tight lid on spoilers being released, we have been given tidbits from various cast members and Ball himself.  A couple of weeks ago HBO sent out the first three episodes of Season 4 to the media to review and so far the general consensus has been that this season will be fantastic.  New York Magazine did an article entitled The Five Ways True Blood Gets Back on Track in Season 4 and we have those here for you. 
1.  Plenty of Lafayette – No doubt Lafayette, played by Nelsan Ellis has been a huge hit with the fans.  He was so popular that Ball decided not to write him off at the end of Season 1 like the way he is killed Charlaine Harris' books. 
True Blood is its most interesting and entertaining when its fantasy elements are in contact and contrast with the normal world as we know it, and Lafayette's point of view often provides the jolt of a perfectly delivered reality check. And, thankfully, he's never been more present or happy than he is at the beginning of Season 4.
2.  It's Scary Again – NY Mag warns fans to watch the first episode with the lights on.  Hmm sounds great!
3.  Eric (Alexander Skarsgard) has way more to do – Ball has already revealed that Eric/Sookie fans will be very happy this season and that makes Eric fans happy all around. 
No one's going to complain about Eric when he's dark and brooding, but this season True Blood is letting Skarsgård flex his (ample, lovely) muscles in other, sweeter directions, and it's a welcome shift. Plus, it adds some interesting emotional depth to his potential romance with Sookie.
4.  The story moves forward – many True Blood fans had been confused by the time gap in the story with the first three seasons only taking place over a couple of months storywise.  This season the story jumps ahead one year while Sookie is in faerie land.
5.  The secondary and tertiary characters are fun again – the True Blood cast is full of so many phenomenal people and fans love to see them all get screen time. 
Arlene and Terry have the most underrated relationship on the show, and they get a juicy story arc in the early episodes that highlights what True Blood actually does well: blend dark, terrifying supernatural elements with cheeky sarcasm and folksy levity. Tara gets a solid story, Hoyt and Jessica have more to do than just stand around and loop dopey, and Sam actually starts to enjoy being a shape-shifter.
We can't wait to see all of this come together!  Tune in June 26th at 9:00pm to watch the Season 4 Premiere of HBO's True Blood.
Source:  NYMag.com – The Five Ways True Blood Gets Back on Track in Season 4
Photo Credit: HBO, Inc.