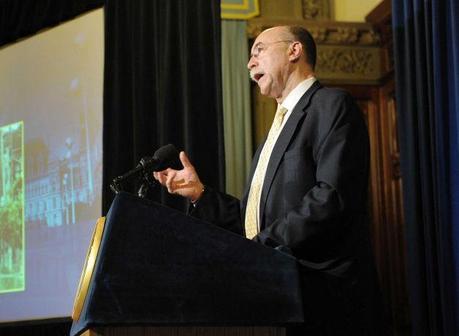 Jerome Hauer, New York State commissioner of The Division of Homeland Security & Emergency Services addresses members of the media at the Capitol on Thursday, Aug. 23, 2012 in Albany, NY, as members of the administration gave an update on the recovery efforts following Hurricane Irene a year ago. (Paul Buckowski / Times Union)
The Times Union


Jerome M. Hauer, Gov. Andrew Cuomo's director of homeland security, took out his handgun and used the laser sighting device attached to the barrel as a pointer in a presentation to a foreign delegation, according to public officials. It happened Oct. 24 in Albany at the highly secure state emergency operations center below State Police headquarters. These officials, one of whom claimed to be an eyewitness, said that three Swedish emergency managers in the delegation were rattled when the gun's laser tracked across one of their heads before Hauer found the map of New York, at which he wanted to point. Hauer, commissioner of the Division of Homeland Security and Emergency Services, was disabled by a stroke a few years ago and can be unsteady. He isn't a law enforcement official. He carries the loaded 9-millimeter Glock in a holster into state buildings, an apparent violation of state law barring state employees from bringing weapons to the workplace, several witnesses say.
Link provided by ssgmarkcr with the following comment:
Here is another careless permit holder who, while acting recklessly, didn't hurt anyone.  And worse yet, he's a government official.
Actually, I wouldn't have considered this reckless idiot a concealed carry permit holder. But, I suppose it's fair to do so. Just like his civilian counterparts, he gets special treatment and gets away with all kinds of violations.
What do you think?  Please leave a comment.