Brownies with the added bonus of being a S'mores bar made with Nutella.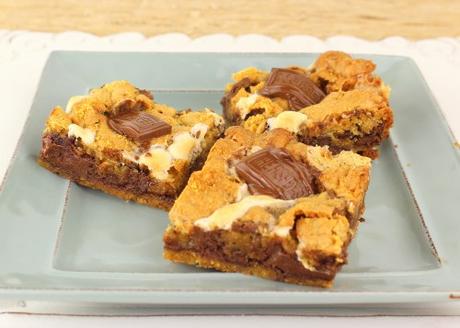 Nutella S'Mores Bars
By Sue Lau | Palatable Pastime
This month for #BakingBloggers the group is posting recipes for Brownies and Bars. Perfect for packing into school lunch boxes with the advent of the dreaded (for kids, that is) return of the school year. Perhaps a few delicious treats will take their minds off their pain?
This particular recipe, if you have been following that I am on a diet, is definitely NOT part of my diet. Sorry.
I had made this some months back, and tucked it away, thinking I might post it last Friday, which was National S'Mores Day. As it turns out I ended up posting with the #FarmersMarketWeek group instead, so the post ended up being extra. And on top of that, I needed a brownie/bar post so tucked it in here. Gives me a little breathing room with the diet because although I had something I could have made that would be sugar free or reduced carb, I also have been working on some other baked recipes, so have been dodging the bullets of excess carbs like a duck in a shooting gallery. You'll see the fruits of those labors later this week when I post recipes for Low Carb Cinnamon Raisin Biscuits (think Hardees!) for #BreadBakers and a Reduced Carb Apple Pecan Spice Cake (snacking Bundt) for #BundtBakers. I call that last one a "snacking Bundt" because like the snacking cakes of old, it lacks a frosting this time, being almost like a nut bread in a cake pan.


These bars were so good. It was pretty much torture having to look at the photos and edit them into the right sizes for the blog, remembering in close-up detail how very scrumptious they were. So I know you guys are going to love them
Don't forget to scroll down past the printout to see the linkup for the group event and the rest of the recipes. Lots of good ones this month! And I will see you tomorrow with that biscuit recipe. You're going to love it too.
~s
Nutella S'Mores Bars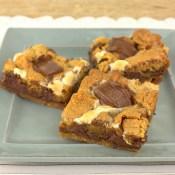 Ingredients:
9 ounce box Jiffy yellow cake mix
1 large egg
1/4 cup melted butter
2 tablespoons water
1/2 cup nutella spread
1/2 cup graham cracker crumbs
1/2 cup mini marshmallows
2 (1.55 ounces each) Hershey's chocolate bars, sectioned
Method:
Baking Bloggers
Brownies & Bars