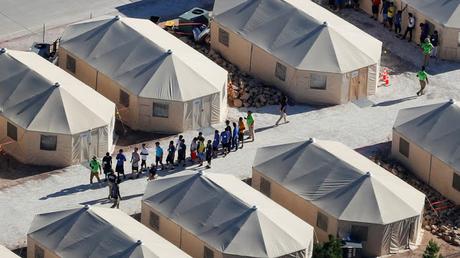 (Photo of immigrant detention for children is from marketwatch.com.)
The number of immigrant children being held in federal detention centers has now topped 14,000.
From the San Francisco Chronicle:


There were 14,056 unaccompanied immigrant minors in Department of Health and Human Services custody on Friday, according to a government source familiar with the number. A spokeswoman for the Department of Health and Human Services confirmed that the total had reached approximately 14,000.

That number tops records set just two months ago, putting further strain on an already overburdened system.

And that number is going to continue growing. Why? Because the Trump administration has changed the rules that would allow those children to be released into families that would care for them.
In the past, the Depart of Health and Human Services (HHS) would release those children to families living in the U.S., but now the Trump administration has ordered HHS to give the names of those families to Immigration and Customs Enforcement officers (ICE). ICE then investigates the families, and if anyone in that family is an undocumented immigrant, they are arrested and deported.
This has caused a lot of families willing to house those youngsters to not apply to do that. They don't want ICE breathing down their necks. And that is true of families of citizens and legal immigrants, because ICE has been known to deport people in this country legally.
This is all to make Trump look good to the racists and xenophobes in his base. He has decided shamefully that his own political career is more important that releasing immigrant children from detention to loving families.