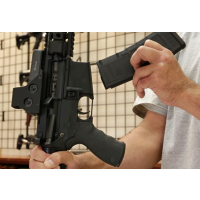 AllGov
The National Rifle Association (NRA) has lost its first legal battle against the City by the Bay over the banning of high-capacity magazines in city limits.
San Francisco's mayor, Edwin Lee, approved an ordinance last November that prohibits residents from possessing firearms with clips that hold more than 10 rounds of ammunition. Individuals owning such weapons must turn them into police, sell them to licensed gun dealers, or remove them from the city by April 7.
The NRA filed suit on behalf of the San Francisco Veteran Police Officers Association, retired officer Larry Barsetti, retired U.S. Navy master chief Arthur Ritchie, and city residents Rainerio Granados, and Randall Low to stop the law from going into effect.
They argued before U.S. District Judge William Alsup that the ordinance violates the Second Amendment by limiting Americans' right to defend themselves.
But Alsup rejected the plaintiffs' claim and let the law stand.
"Although there will be some occasions when a law-abiding citizen needs more than ten rounds to defend himself or his family, the record shows that such occasions are rare," Alsup wrote in his ruling (pdf).